Replacing Phenol in Wood Products
Engineering360 News Desk | February 17, 2017
Reactive lignin produced from pulp industry side streams can replace phenol compounds in wood adhesives and become a new, high-value product for pulp mills.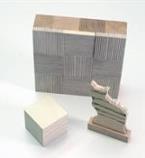 Versatile Design prepared the first CatLignin demosThe CatLignin technology developed by VTT Technical Research Centre of Finland is integrated into pulp mills. The process yields a bio-based substitute for a wide range of fossil-based chemicals in adhesive, rubber, and plastic applications.
The carbon dioxide footprint of lignin is only approximately 20% of the footprint of phenol. Replacing phenol with lignin also reduces formaldehyde usage, and its antioxidative properties are expected to improve weather resistance, reducing the need for oil-based and expensive additives.