Jet Biofuel Installation Opens at Oslo Airport
By Engineering360 News Desk | February 19, 2016
Jet biofuel is now available for use onsite at Oslo's principal international airport, a first for commercial aviation.
The fuel is being supplied directly into the airport's existing fuel hydrant system, demonstrating that biofuel can use existing physical infrastructure to significantly reduce logistical costs. Previously, airlines that wished to use an alternative to traditional standard jet kerosene had to have it specially brought in at extra expense by a tanker truck equipped with a fueling hydrant.
All airlines using Oslo Gardermoen Airport have been given the opportunity to use the fuel, which is made from camelina oil that is certified by the Roundtable on Sustainable Biomaterial. Thus far, Lufthansa, SAS and KLM Royal Dutch Airlines have committed to purchasing the jet biofuel.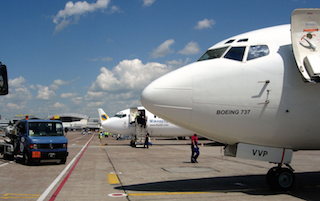 All airlines using Oslo Airport have been given the opportunity to use the jet biofuel. Image credit: Morguefile.The agreement to use the fuel at Oslo's airport is the result of a collaborative effort among Avinor, Air BP and SkyNRG, a project partner of the EU-funded Initative Towards Sustainable Kerosene for Aviation (ITAKA). ITAKA researchers see camelina oil as the best available sustainable feedstock that can be easily produced in Europe in order to meet expected demand for jet biofuel.
Crucial to making the uptake of biofuel more attractive, no aircraft modifications are required, as it is converted into drop-in aviation fuel through a hydroprocessed esters and fatty acids ("HEFA") pathway.
The project utilizes four camelina plantations in Spain, complemented by smaller plantations in Romania. The fuel itself is refined in Finland by ITAKA project partner Neste.
ITAKA aims to make a substantial contribution to the airline industry's commitment to reduce its greenhouse gas emissions and comply with international climate agreements. The EU has set itself the target that 3.5% of all aviation fuel be biofuel by 2020.