"Robotic Falcon" Can Capture Renegade Drones
Engineering360 News Desk | January 29, 2016
A Michigan Technological University engineer has invented a device to pursue and capture rogue drones that threaten military installations, air traffic and sporting events.
The device, developed by Mo Rastgaar, associate professor of mechanical engineering, is comprised of a launcher that shoots a net attached by a string to a large drone. The system can be autonomous, controlled by a ground-based human pilot or a combination of the two.
After an intruding drone is spotted, the drone catcher takes up the chase and fires the net at it from a distance of up to 40 feet. Because the net is so large and can be deployed so quickly, it can overwhelm small drones.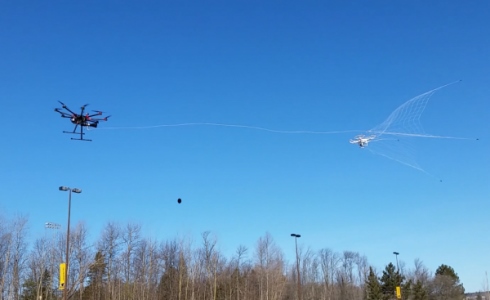 The robotic falcon catches its prey. Image source: Mo Rastgaar.Once trapped, the intruder has little chance of escape, as shown in this video. "It gets really entangled," Rastgaar says. "It's not going anywhere." The net then swings below the drone catcher, which ferries its cargo to a safe location.
Rastgaar hatched the idea while watching a World Cup soccer game. Hearing that snipers were protecting the crowd, it occurred to him that security officials didn't understand the potential havoc that could be created by a drone.
"I thought, 'If the threat is a drone, you really don't want to shoot it down—it might contain explosives and blow up. What you want to do is catch it and get it out of there.'"
According to Rastgaar, what makes his device unique is that the net is attached to a catcher, so the rogue drone can be retrieved or dropped in a designated secure area. "It's like robotic falconry," he says.
Rastgaar has filed for a patent on the drone catcher system and says it could have several potential applications, from foiling spy drones, smugglers and terrorists to supporting federal regulations.
"The [Federal Aviation Administration] has just announced that drones must be registered, and we think the catcher could help enforce the law by catching unregistered drones," he says.