Drones may be used to construct small quantum networks
Marie Donlon | February 04, 2021
A coalition of institutes in China has worked together to devise a prototype of a small, local airborne quantum network using drones to send entangled particles from one drone to another drone and then to a ground station.
To accomplish this, a laser-generating device was constructed and attached to a drone. As the device fired, photons split into two, resulting in entangled pairs with one set of photons directed toward another drone while the other set faced the ground station. According to researchers, the drone that received the entangled photons functioned as a relay, forwarding the photons to a third drone that sent them to a second ground station. The drones featured motorized devices for ensuring that transmitters and receivers were appropriately aligned for transmitting the entangled photons.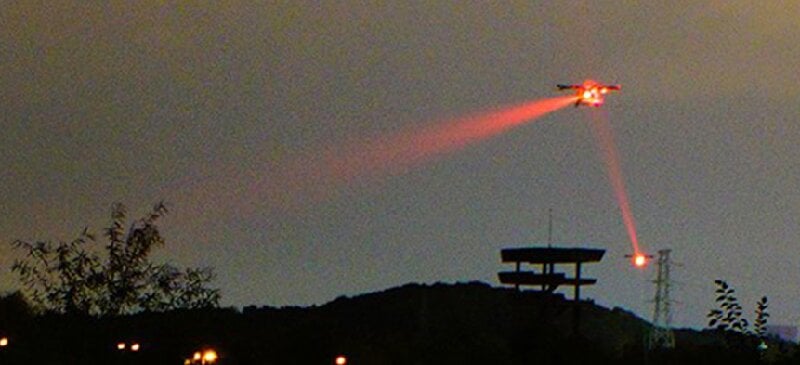 Target acquisition. The beams from one drone are visible over the testing area. Source: X.-H. Tian, H.-Y. Liu, & Z. Xie/Nanjing University
During testing, the photons were sent 1 km. However, the researchers believe that moving the drones higher would enable transmission over distances of up to 300 km.
Building a usable quantum network wherein entangled particles are sent between users and resulting in the most secure network has long been a goal of computer scientists, physicists and engineers. Past attempts have resulted in entangled particles being sent over fiber cables, towers and from satellites to the ground. While satellites are appropriate for long-range quantum networks, they are not for smaller, local quantum networks. Likewise, towers are appropriate for developing such systems, but they can be vulnerable to weather or blockages.
Conversely, drones carrying the signals could, according to the research team, be modified for use in vehicles moving on the ground and incorporated into a network that includes satellites.
The research appears in the journal Physical Review Letters.