Safer infectious sample prep with a voice assistant
S. Himmelstein | February 13, 2023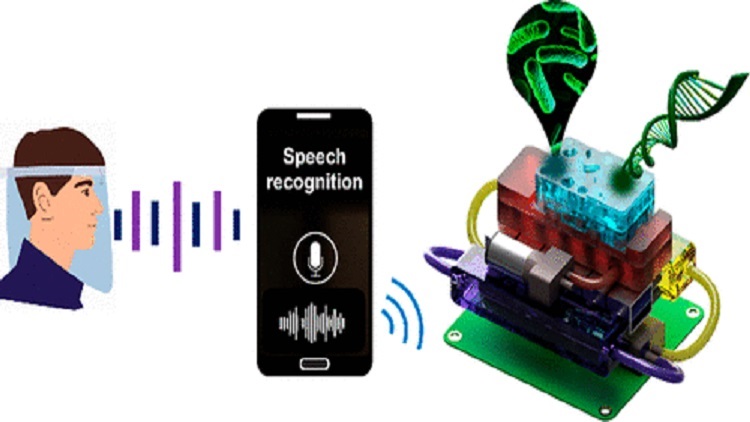 The portable sample pretreatment system is voice-activated. Source: ACS Sensors 2023, DOI: 10.1021/acssensors.2c01849
Voice assistants, such as Siri and Alexa, turn on lights, answer questions and perform other mundane functions for the consumer. This technology is now being harnessed to enhance the safety of clinician and laboratory technicians tasked with handling samples containing potentially infectious pathogens.
The system developed at Kyung Hee University in South Korea is intended to reduce healthcare staff exposure to such samples by use of the voice-activated smart speakers that are common in many homes. The hands-free device can extract and pretreat bacterial DNA, helping protect those on the front lines of disease outbreaks and enabling scientists with disabilities to conduct studies more easily.
The system consists of a microfluidic chip with chambers for liquid samples that are connected with six three-way solenoid valves activated by a Bluetooth-controlled microcontroller. Existing speech recognition software was used to customize a smartphone app to listen for specific voice commands in a system powered by a portable battery or a smartphone charger.
The current iteration of the device described in ACS Sensors is conceived as processing DNA samples from pathogenic bacteria that have been isolated from patients for further analysis and identification. Testing confirmed that the voice-controlled device extracted DNA from Salmonella typhimurium, purifying a 10-µL sample with an efficiency of 70% in less than a minute. The microcontroller within the device can coordinate various sample preparation steps, including sample washing, loading and collection of the final purified bacterial DNA.