ZIP XX: New breakthrough cut-off wheel from WALTER
Engineering360 News Desk | January 30, 2023
Metalworking solutions developer WALTER Surface Technologies has unveiled a new cut-off wheel designed to last longer and to increase productivity. Available as of February 1, the ZIP XX outlasts other industry-leading ceramic wheels by at least 30% and delivers, by far, the most cuts per wheel, thus reducing changeovers and downtime.
The ZIP XX is a slightly thick 1/16 inch ceramic wheel with premium reinforcements that make it safer and more durable, all while not compromising speed. Thanks to its unique formulation of 100% self-sharpening ceramic grain, it cuts up to 10% faster than aluminum oxide wheels. It was engineered with the latest proprietary SMART RESIN technology, which allows the wheel to expose the fresh grains at the optimal moment to maximize longevity and sharpness. It also delivers smooth, clean cuts every time by minimizing the need to rework the piece as well as the risk of metal overheat or discoloration.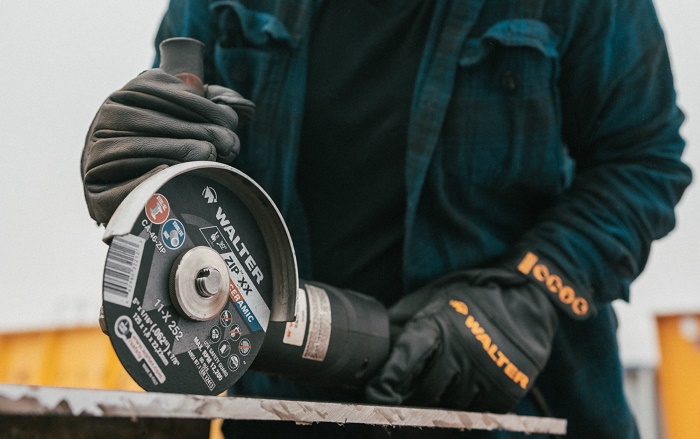 Source: WALTER Surface Technologies
"By optimizing the pressure applied during manufacturing, using the new SMART RESIN technology and choosing a unique grain composition, WALTER was able to deliver its most productive cut-off wheel yet," said Marc Brunet Gagne, senior product manager — bonded abrasives, tooling and power tools.
Made of ceramic micro-crystals with pre-set fracture points that optimize the balance between cutting speed, durability and high-performance, the ZIP XX delivers productivity, safety, comfort and efficiency. Compatible with steel, stainless steel and hard alloys, this new wheel is now available in 4.5 inch, 5 inch, 6 inch and 7 inch diameters.