Norton MilliNium Wheels Roll Bottom-Line Benefits
October 25, 2017
Sponsored Content
Sponsored content
Let's face it, the bottom line is a powerful driver in product selection. But lower price tags and total cost of ownership often penalize quality and productivity and can prohibit the chance to work with an industry leader. Now these disadvantages no longer exist when purchasing hot mill roll grinding wheels.
Hot Mill Grinding
Within the steel industry, abrasives are used for steel conditioning, cutting and grinding sheets, slabs, billets, bars, rounds, rolls, sheets and tubes. When the abrasive wheels are used in grinding hardened steel, wheels wear out quickly and tolerances are negatively affected, causing rapid wheel replacement and additional expense. The industry is demanding that today's tolerances must be more exact and finishes more consistent, despite the increased use of stronger alloys that wear wheels out faster.
There are many challenges to using abrasive wheels for hot mill steel grinding. The wheels' durability, performance, finish quality, grain retention and ease of use are all important factors, as are longer intervals between wheel changes and minimal machine parameter changes for operators. And of course, bottom-line cost is paramount.
To deal with growing challenges and greater pressure to reduce costs, Norton R & D engineers developed MilliNium™ grinding wheels that provide longer life and material removal rate improvements over existing hot-mill-roll grinding solutions. The result is an open-structure bond combined with superior grain blends that are increasing productivity while reducing grinding costs.
The MilliNium
All Norton MilliNium wheels are custom made to address a specific application. Engineered specifically for hot mill roll grinding, the Norton MilliNium bond is based on a chemistry that provides improved wheel grain retention so that the wheel maintains the correct porosity for a given hardness. This directly translates into a wheel with the long-life grain retention of a hard grade and the ease-of-use performance of a soft grade.
Norton MilliNium wheel specifications:
Wheel Dimensions: Diameter: 12-42 in.
Thickness: Up to 6.25 in.
Grade: F-M
Grit: 36-60
Max Operating Speed: Up to 63 m/s
Results to date include:
Up to a 147 percent increase in G-ratio over incumbent wheels, indicating a much-improved wheel life
Greater resistance to wet grinding conditions, withstanding chemical degradation for improved grinding consistency over the life of the wheel
Cooler-cutting, porous, open structure minimizes metallurgical damage on rolls
Operators are often able to use an additional inch-plus of wheel diameter over their typical stub diameter, reducing wheel costs and changeovers
Norton MilliNium wheels cut up to 100 percent faster with consistent surface finish on difficult-to-grind materials
An average of 20 percent reduction in cycle time and a reduced total cost per part of more than 15 percent is achievable
Reduced energy consumed while operating existing machinery for the same production
Significantly increases production while using fewer wheels
Typically, abrasive consumables only account for about 3 percent of a total manufacturing budget, while machinery, labor, and overhead translates into 80 percent of that budget. Optimizing the abrasive process to decrease the cycle time offers the greatest return, and increased stock removal rates positively impact overall plant productivity and profitability. Norton MilliNium wheels' total return benefits are both substantial and measurable.

Figure 1. Total linear inches reduction and G-ratio. Source: Norton | Saint-Gobain Abrasives
Case Studies
One of the best ways of judging total cost of ownership of the Norton MilliNium Quantum ceramic resin bond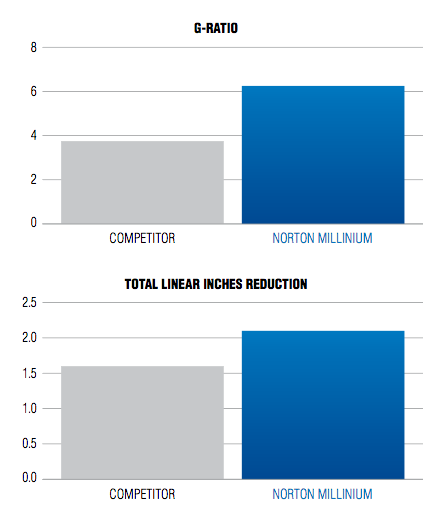 Figure 2. G-ratio and total linear inches reduction. Source: Norton | Saint-Gobain Abrasiveswheel is to look at three cases where it was used. A common measure of the efficacy of a grinding wheel is the grinding ratio (or G-ratio), which measures the volume ratio of a material removed to the wheel wear. The higher the number, the more effective the wheel.
In the first case the wheel was used on a Herkules hot mill roll grinder that had historically used a 36 x 3 x 14 in., 36-grit ceramic blend, resin bond wheel to grind cast iron and ferrochrome rolls. The Norton MilliNium Quantum ceramic, resin bond wheel 3NQAC36-MB36 was substituted, resulting in the ability to provide a 167 percent improvement in wheel life and a 147 percent increase in G-ratio. The linear inches reduction was also increased by 155 percent over the competitive wheel. The operators noted that no adjustment of machine parameters was required over the life of the Norton wheel.
In the next case, a Farrell hot mill roll grinder had previously used a 36 x 3 x 15 in., 36-grit ceramic blend, resin bond wheel to grind high-speed steel and cast-iron rolls. When the Norton MilliNium Quantum ceramic, resin bond wheel 3NQAC36-LB36 was substituted, it showed a 66 percent increase in G-ratio and a 31 percent increase in linear inches reduction.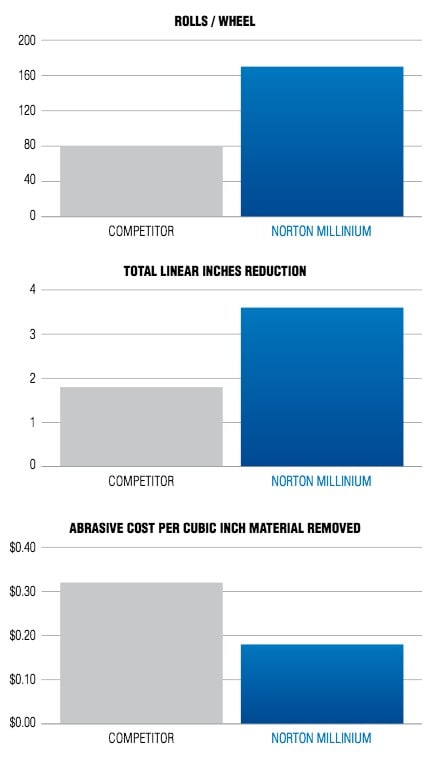 Figure 3. Rolls/wheel, total linear inches reduction and abrasive cost per cubic inch material removed. Source: Norton | Saint-Gobain Abrasives
The third case involved the grinding of ICDP rolls using a Herkules hot mill roll grinder. Before replacing it with a Norton MilliNium Quantum ceramic resin bond wheel 2NQG36-JB36 wheel, a 42 x 4 x 20 in., 36-grit ceramic blend, resin bond wheel was used. In comparison, the Norton MilliNium wheel produced a 110 percent increase in both G-ratio and wheel life over the competitive wheel, as well as a 97 percent increase in total linear inches reduction. The overall cost per inch was reduced by 25 percent while the abrasive cost per inches removed was reduced by 44 percent.
Summary
Norton engineering has designed and manufactured high-quality grinding wheels for more than 125 years, offering a range of abrasive types, blends and grades to deliver desired outcomes fast and economically. While the lifespan of grinding wheels varies from days to years, the rate of wear for specific applications is usually predictable. With materials such as steel, wheel life is unfortunately short, necessitating greater wheel inventory and machine and labor costs.
The recent innovation of the Norton MilliNium wheel addresses today's hot mill roll requirements by providing a uniquely-engineered solution that delivers wheel longevity and metal removal rates that increase productivity and reduce grinding costs as well as total cost of ownership.
The Norton MilliNium wheel's durability, performance, finish quality, grain retention and ease of use are unique in the industry. Not only can users achieve superior results, they can do it without bottom-line penalty, while accessing one of the most trusted names in abrasives.