WALTER announces its "Go the Extra Mile" contest for the chance to win a 2023 Polaris RZR
Engineering360 News Desk | March 03, 2023
Metalworking solutions provider WALTER Surface Technologies has officially announced its "Go the Extra Mile" contest.
Starting on March 20, 2023, across the U.S. and Canada, customers will find, on specially marked packs of ZIP XX, a sticker with an entry code valid for one chance to win the grand prize, a 2023 Polaris RZR TRAIL side by side, or one of 17 other secondary prizes that will be awarded. Participants will be able to enter that code here for their chance to win.
The 17 secondary prizes include WALTER angle grinders, Drillco drill bit sets, ArcOne helmets and additional prize packs. Drawings will occur every two weeks with the first being on April 14 and the last on November 24, 2023. The grand prize, a 2023 Polaris RZR TRAIL side by side, will be drawn on December 8, 2023.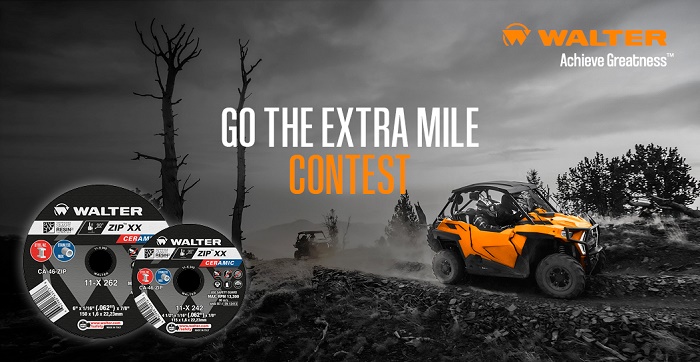 Source: WALTER Surface Technologies
The ZIP XX is a new addition to WALTER's wide array of metalworking solutions. The ZIP XX ceramic cut-off wheel outlasts other industry-leading ceramic wheels by at least 30% and delivers the most cuts per wheel, thus reducing changeovers, downtime and overall cost. Thanks to its unique formulation of 100% self-sharpening ceramic grain, it also cuts up to 10% faster than aluminum oxide wheels.
The ZIP XX was engineered with our latest proprietary SMART RESIN technology which allows the wheel to expose fresh grains at the optimal moment to maximize longevity and sharpness. It also delivers smooth, clean cuts every time for a safer and more comfortable cutting experience with minimized rework. Compatible with steel, stainless steel, and hard alloys, this new wheel is now available in 4.5-inch, 5-inch, 6-inch and 7-inch diameters to help customers work better.
"The ZIP XX cut-off wheels definitely raise the bar by delivering increased cutting speed and longevity, while still remaining safe for metalworkers," asserted Marc Brunet Gagne, senior product manager - bonded abrasives, tooling and power tools.
name="_Hlk128057703">"The grand prize, the 2023 Polaris RZR TRAIL, is a perfect choice since, like WALTER's ZIP XX, it combines speed with power and performance. At WALTER we aim to contribute to our customers' success by helping them work better which is why we want them to take advantage of the productivity and safety offered by our new ZIP XX and run the chance to win a side-by-side as a nice plus!" added Éliane Ouimet, chief innovation and marketing officer (CIMO) of WALTER Surface Technologies.
Specially marked packs of the ZIP XX are available at participating distributors.
The contest closes on December 1, 2023.