Inoxpa updates progressive cavity pump range with the new KTE pumps
Diana Aoun | October 10, 2022
Inoxpa has replaced its Kiber NTE pumps with the all-new Kiber KTE progressive cavity line with a hopper and a feeding screw. The new pumps can be used for viscous products, masses, pastes and liquids with solids in suspension. The primary application of the new Kiber KTE is for transferring whole or destemmed grapes and the compact design enables installation directly under the destemming machine.
Friction between the rotor and the stator creates a vacuum in the inlet area that facilitates product entry into the pump. The turning motion of the rotor makes the cavities between the rotor and the stator move forward and transport the product to the outlet. The feeding screws have a specific design adapted to every pump size in order to deliver a gentle passage of solids, according to flow.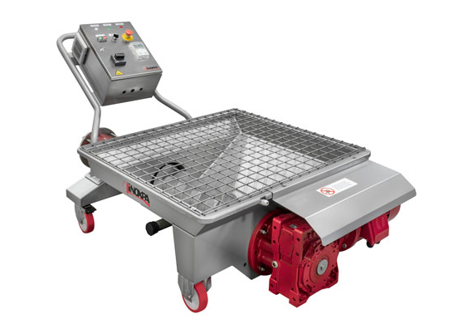 Source: Inoxpa
The hoppers feature a safety grid, drainage and a minimum level resistive sensor to stop the pump in the event there is no product. This helps to avoid dry running, which could damage the rubber of the stator and the mechanical seal.
The new Kiber KTE progressive cavity pumps are supplied on a stainless-steel trolley with wheels and brake. An ergonomic handle for mounting an electrical panel is also included, and electrical panels can be customized to tailor for specific process requirements.
The drive consists of a worm gearbox with flange, coupled to a standard three-phase electric motor according to IEC. There are four pump sizes available, delivering a flow up to 55 m3/h (242 U.S. gpm).