Hose Pumps for Bentonite Metering
Engineering360 News Desk | February 10, 2016
Progressive-cavity (PC) pumps and bentonite metering don't get along very well. Bentonite, used by water treatment facilities to help with flocculation, often leads to pump-stator damage and blocked suction lines. Flocculation is a process that causes particulates in the water to clump, so they can easily be removed during treatment.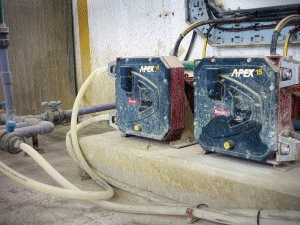 The hose pumps can be run in reverse to clear blockages. Such was the case at major waterworks facilities operated by State-owned Umgeni Water, in the Province of KwaZulu-Natal in South Africa. The abrasive nature of the bentonite (a crystalline quartz) was causing reliability issues with numerous PC pumps running at several treatment plants. Relief came when Umgeni replaced two PC pumps with new hose (or peristaltic) pumps at the wastewater-treatment facility in Amanzimtoti. The pumps were Bredel APEX15 models supplied by Watson-Marlow Fluid Technology Group.
Peristaltic pumps are positive-displacement pumps that do not contain seals, valves or moving parts in the flow path, largely eliminating the risk of clogging, leaking, corrosion or contamination. The pump casing houses a flexible tube that contains the fluid to be pumped. A rotor, with several lobes attached to its circumference, turns to compress the flexible tube and force the fluid through.
The Amanzimtoti facility receives raw water from the Nungwane Dam. In operation, workers at the facility offload bags of bentonite into a 3,000-l holding tank, which then is mixed into an abrasive liquid. Using the hose pump, running at less than 3 bar, the abrasive liquid is pumped so that the solids are kept in suspension. In addition, the hose pumps can be run in reverse to clear blockages, and then run in the correct direction once clear.
Since installing the pumps at Amanzimtoti in 2012, reliability has improved significantly, according to Umgeni Water officials.