International Standards and the Quest for Safe Shipping
Morand Fachot, Technical Writer, International Electrotechnical Commission | January 14, 2016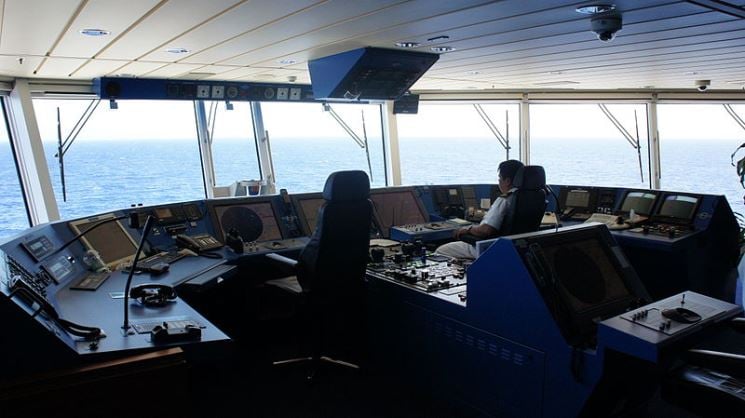 Bridge of the ship Norwegian Jade. Image source: Wikimedia commons.
Maritime transportation is the most effective means of moving large quantities of cargo over long distances. Merchant ships are the lifeblood of the global economy, transporting around 90% of international trade (in terms of volume), as well as some two billion passengers a year on ferries and cruise liners. Continuous efforts are made to improve maritime safety, which depends to a great extent on navigation and radiocommunication equipment and systems. Many standards for these are prepared by the International Electrotechnical Commission (IEC).
In April 2012, the world remembered the 100th anniversary of perhaps the best-known ship disaster, the loss of the R.M.S. Titanic and the deaths of more than 1,500 passengers and crew. The wreck marked the first renowned SOS distress message sent from a ship. It also was the catalyst for the adoption in 1914 of the first Safety of Life at Sea (SOLAS) Convention,which forms a central part of the International Maritime Organization's (IMO's) activity. IMO now functions as the specialized United Nations agency with responsibility for the safety and security of shipping and the prevention of marine pollution by ships. It has developed a framework of maritime safety regulations which are enforced on worldwide. Of particular importance is the SOLAS Convention.
Accidents at sea occur frequently and for all kinds of reasons. These include equipment failure, human and navigation errors and acts of God, such as extreme weather conditions or other natural disasters. These accidents often go unreported in the mainstream media unless significant losses of lives or serious environmental consequences are recorded.
Improving maritime navigation and radiocommunication equipment through standardization goes a long way towards raising safety levels in the maritime environment.
International Undertaking
Shipping was among the first industries to adopt widely implemented international safety standards. The IEC ranks among the world's leading organizations that prepare and publish international standards for all electrical, electronic and related technologies. The IMO, acknowledging the IEC's expertise in the field, established a formal relationship to collaborate in the field of electrical and electronic systems for ships and offshore units. This extends to navigation and radiocommunication equipment and systems.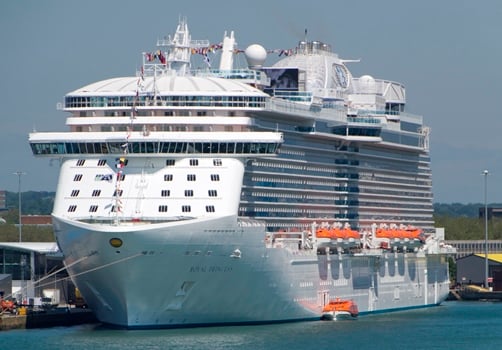 Ships are technologically sophisticated and high-value assets; some cruise vessels can cost more than $1 billion to build. Image source: Wikipedia.orgAn IEC Technical Committee, TC 18, whose origin dates from 1927, was created to prepare international standards for electrical installations and equipment of ships. In 1986, the TC's scope was extended to cover electrical installations onboard fixed and mobile offshore oil and gas exploration units as sentiment held that the existing standards for ships were not necessarily appropriate to these environments.
IEC TC 18 standards chiefly concern factors promoting the safety of ships and of mobile and fixed offshore units, and, factors promoting safety of life.
State-of-the-Art Systems
Safety at sea has advanced in the last century, but these advances are not only due to safe and properly operating electrical installations. The increase in maritime traffic in recent decades requires, among other things, new or better communication and navigation to maintain and improve safety.
An IEC Technical Committee, TC 80, set up in 1980, took on the role of producing international standards for maritime navigation and radiocommunication equipment and systems, in agreement with IMO.
Ships are technologically sophisticated and high-value assets (larger high-tech vessels, like the latest cruise ships, can cost more than $1 billion to build). One of the fundamental trends in the maritime industry has been an increasing reliance on electrical and electronic technologies for navigation and communication. These technologies have moved well beyond the mechanical era of the magnetic and gyro compass and into the electronic age. A ship's bridge is now a dense concentration of navigation, communication and machinery control equipment, all of which has to work together.
For centuries, ships could not communicate with shore or with other ships from a distance, but this was to change with the introduction of radio. Communication with ships was one of the first applications of radio at the end of the 19th century. Radio equipment was installed for the ship's operations and also was increasingly used for distress and safety purposes. The distress and safety system relied on wireless telegraphy using Morse code. The first example of wireless communication used to call for assistance was recorded in 1899.
Communication equipment has evolved from wireless telegraphy using Morse code to voice communication via HF (high frequency) and, more recently, to voice and data communication via satellite. Morse code was phased out nearly two decades ago in favor of Global Maritime Distress and Safety System (GMDSS), a system developed by the IMO. GMDSS uses radio and satellite communication and equipment to enable ships to communicate with shore stations from anywhere at sea and at any time. To date, IEC TC 80 has prepared and published 11 standards for all aspects and technologies of GMDSS.
In 1979 the IMO adopted the international convention on maritime search and rescue (SAR). GMDSS requirements form part of SOLAS, making it an essential tool for SAR. The 61097 series of IEC standards for GMDSS are based on IMO resolutions defining equipment performance standards for all components of the system. IMO regularly reviews these standards and adds new ones as more requirements are identified, particularly concerning security and piracy and increased interest in shipping traffic in polar region, with the unique navigational and SAR concerns specific to these areas. Basic standards for radiocommunication are set by the International Telecommunication Union (ITU).
Off the Rocks, Safely
Mariners have always tried to chart their course to reach their destination safely while avoiding other ships, natural hazards such as reefs or treacherous currents, and areas presenting a danger for other reasons (piracy, conflict zones, disputed waterways and so on). For centuries, mariners have relied on nautical charts and instruments such as compasses, astrolabes or sextants. Electronic equipment like radars and sonars were introduced beginning in the 1930s, initially on naval ships, to provide data on distance to and from other ships and the shore, and on navigational depth.
In recent years, changes have been phased in to navigation equipment. Ships now carry and rely on improved radar equipment and automatic position fixing provided by satellite navigation systems.
In 2015, for example, a program began that calls for the mandatory carriage of electronic charts in the form of an IMO system called Electronic Chart Display and Information System (ECDIS). This computer-based navigation information system can be used instead of paper nautical charts, and integrates information from satellites. The first edition of IEC standards for ECDIS was published in 1998; it is now on its third edition, and reflects experience gained through its use and detailed changes to IMO's requirements.
ECDIS is changing the way that ships navigate and also highlights the change in equipment present on a ship's bridge, which is becoming highly complex and software-dominated. Products require updates with due attention given to their update status. The mandatory carriage of ECDIS points to software maintenance issues that affect many shipping companies that still operate under a "fit-and-forget" attitude to bridge equipment.
The International Hydrographic Organization (IHO), an intergovernmental organization representing the hydrographic community, recently updated its standard for electronic navigation charts and will complete work in the next few years on the next generation of standards for electronic navigation chart databases. This will lead to more changes in TC 80 standards for ECDIS and for the presentation of charted information.
Role of Standards
An Automatic Identification System (AIS) has been introduced which allows ships to provide information automatically to other ships and to coastal authorities. Regulations that came into force in July 2015 require that AIS be fitted aboard all new passenger ships of 300 gross tons (GT) and upwards, and to new cargo ships of 500 GT and upwards. In both cases, the regulations apply to ships that are engaged on international voyages.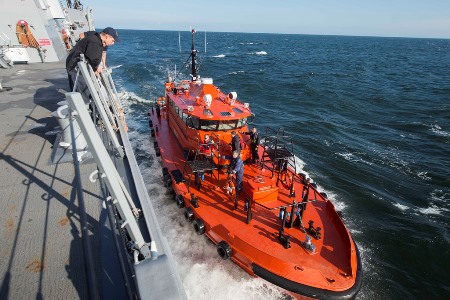 One trend is a focus on improving collaboration within the bridge team, between the bridge team and pilot, and with shore-side sources of information. Image source: flickr.comAutomation of many ship functions has resulted in vessels carrying fewer crew members; even large ships may now be crewed by as few as a dozen or so personnel. Voyage data recorders, comparable to the so-called black boxes found on commercial aircraft, have been installed to record and protect ship data and voice recordings. These devices can be recovered and analysed after an accident. The start of a phase-in program for the carriage of a Bridge Navigational Watch Alarm System (BNWAS) began in 2015. The program is designed to ensure that the bridge team is alert and has not become incapacitated.
The IMO played a pioneering role in establishing in 1976 the organization known as Inmarsat (International Maritime Satellite Organization) to provide emergency maritime communications. TC 80 prepares and updates international standards for Inmarsat, covering SES (ship earth station) and EGC (enhanced group call) equipment. The latter is capable of receiving multiple-address messages and is intended for use in GMDSS and long-range identification and tracking applications.
All maritime electronic navigation and communication equipment and systems such as BNWAS, ECDIS, AIS or GMDSS, and which play such an important role in maritime safety rely on the work of IEC TC 80, which has produced some 50 international standards. The committee works on new standards that not only support IMO requirements, but also more general ship-and-shore applications.
Safeguarding System Security
As cyberattacks emerge as a security threat in almost every field, such attacks present particularly serious risks for maritime navigation. IEC TC 80 decided to develop international standards to address risks due to exposure to external cyber threats. As a result of this work, it published IEC 61162-460:2015 in August 2015.
This is an add-on to the IEC 61162-450:2011 standard where higher safety and security standards are needed, for example, due to higher exposure to external threats or to improve network integrity. TC 80 is also taking part in the IEC's Advisory Committee on Information Security and Data Privacy (ACSEC), which deals with information security and data privacy matters that are not specific to a single IEC technical committee.
One emerging trend is a focus on improving collaboration within the bridge team, between the bridge team and pilot, and with shore-side sources of information. Associated with this is the development of smarter interfaces between navigation sensors and bridge workstation applications. This is leading to developments for data transfer via LAN (local area networks) and for bridge alert management for handling alarms.
Changes introduced by the ITU in radio-frequency allocations and maximum acceptable levels of out-of-band emissions are promoting development of navigation radars that are not based on pulsed-magnetron designs. IMO has embarked on a program called e-navigation, which is intended to integrate existing and new navigational tools, in particular electronic tools, in an all-embracing system. The system is intended to contribute to enhanced navigational safety and operational efficiency while also reducing the burden on the navigator. It also aims to take environmental issues into account.
Shipping and offshore exploration are such complex and international industries (implementing practices and a variety of systems developed over decades, even centuries) that many national and international bodies and organizations are involved. These include the other two global standardization bodies, ISO and ITU, in addition to UN agencies such as IMO, specialized bodies like the IHO and multiple shipping registers and bureaus.
IEC standards for electrical installations, navigation and radiocommunication systems and equipment for ships and mobile and fixed offshore units are implemented worldwide by naval architects, marine engineering design and consulting companies, and all industries involved in the shipbuilding and related sectors. They are used for supporting regulations and as the basis for contracts, and often replace the statutory authority documents.
Rather than opting to develop their own standards, most of the industry's bureaus or registers of shipping, such as the American Bureau of Shipping, Bureau Veritas, Det Norske Veritas, Lloyd's Register, the Korean Register of Shipping and the Russian Maritime Register of Shipping, to name just a few, rely on IEC international standards.
With shipborne electrical installations and navigation and radiocommunication equipment playing an ever more important role, the IEC finds itself at the core of a complex web of relationships that ensure the shipping environment will become safer and adapt to future challenges.