Old CDs find new life as biosensors
Marie Donlon | August 12, 2022
A team of researchers from Binghamton University, State University of New York are turning old CDs into new flexible biosensors.
The inexpensive process for transforming old CDs into flexible biosensors involves separating a gold CD's thin metallic layer from the rigid plastic and transforming it into sensors for monitoring electrical activity in human hearts and muscles, in addition to glucose, lactate, pH and oxygen levels. According to the developers, the sensors can communicate that data with a smartphone using Bluetooth.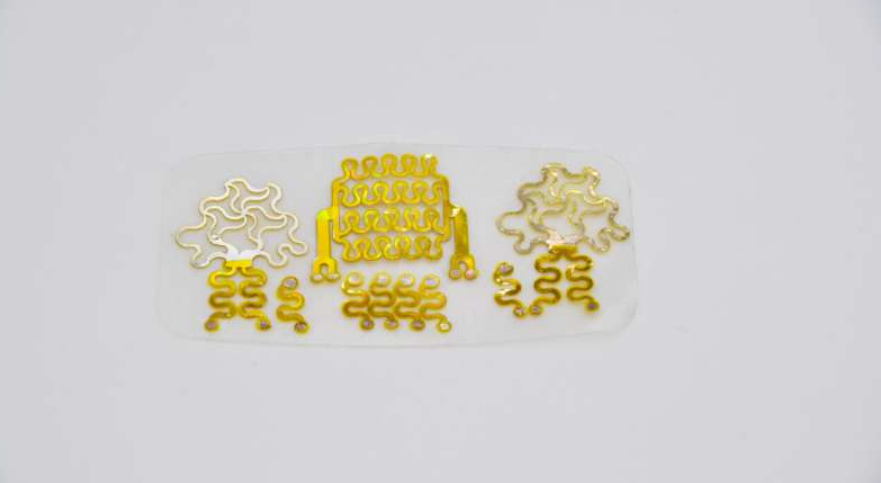 Source: Matthew Brown
The fabrication process, which takes 20 to 30 minutes, does not release toxic chemicals. Instead, the metal layer is essentially peeled off and an off-the-shelf Cricut Cutter — which is a machine for crafters that cuts designs from assorted materials — was used to fabricate the biosensors. Once cut, the biosensors are placed on the wearer for monitoring.
In all, the Binghamton team estimates that the fabrication process costs around $1.50 per device.
The researchers explained: "This sustainable approach for upcycling electronic waste provides an advantageous research-based waste stream that does not require cutting-edge microfabrication facilities, expensive materials or high-caliber engineering skills."
The article, Upcycling Compact Discs for Flexible and Stretchable Bioelectronic Applications, appears in the journal Nature Communications.