Team turns regular clothing into biosensors
Marie Donlon | November 11, 2021
A team of researchers from the University of Utah have devised a method for turning clothing fabric into biosensors that measure muscle electrical activity when worn.
The team turned regular cotton-polyester blend textiles into sensors capable of measuring electrical impulses produced from muscle movement. When muscles contract, they produces electrical signals as ions, according to research.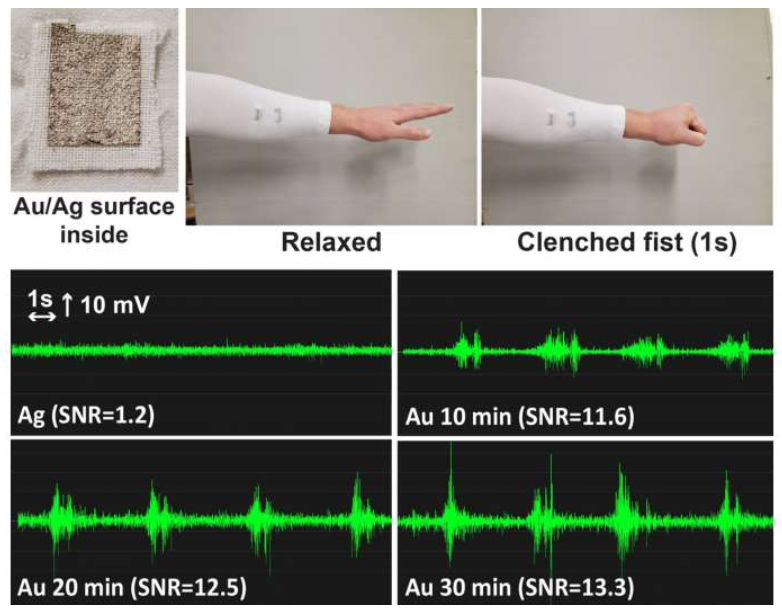 In this graphic, a compression sleeve is turned into a biosensor that measures electrical impulses generated from muscle movement. Shown is the measurement of electrical activity picked up by the sleeve when a fist is made. Source: Huanan Zhang/University of Utah
To measure these signals, the researchers deposited a microscopic layer of silver on the fabric, thereby making the material conductive and capable of receiving the electrical signals from the muscle. That silver layer is applied via a process that resembles screen printing, wherein the layer is applied to areas that will be in direct contact with the muscles to be measured.
Because silver can sometimes be toxic when in contact with skin, the researchers added a microscopic layer of gold to protect skin from the silver, while also enhancing the electrical signal of the fabric. This layer was deposited via an electrochemical technique while patches of the sensor are attached to wires and a portable electromyography (EMG) device for measuring muscle contractions.
The study, Gold and silver nanocomposite-based biostable and biocompatible electronic textile for wearable electromyographic biosensors, appears in the journal APL Materials.