World's most compact industrial robot arm
Ryan Clancy | May 17, 2021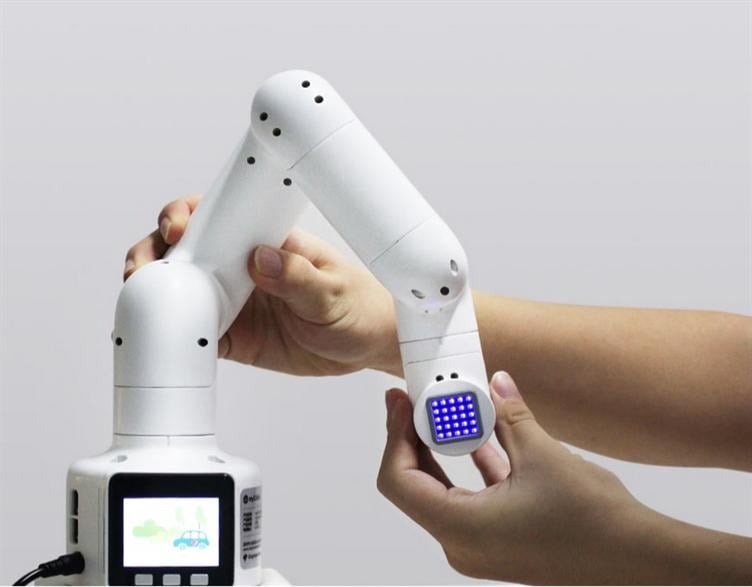 The mycobot clocks in as just 850 grams. Source: Elephant Electronics
Industrial robot arms carry out tasks like painting, welding and inspection of products with precision and speed. This allows them to be used in a wide variety of industries and results in high productivity at a relatively low cost. Manufacturing companies acquire industrial robot arms to fulfill a specific role, which includes the automation of complex tasks like weld optimization and inspection. Sophisticated actions like these require complex movement sequences, some of which the robot may have to figure out itself.
Industrial robotics companies have continued to use robot arms to meet their high manufacturing standards, and the arms themselves have become indispensable to the manufacturing process. This is true from the largest of projects, for instance a 20-ton laser coating removal robot, to the tiniest of tasks: think robots that must operate in small spaces and transport tiny objects.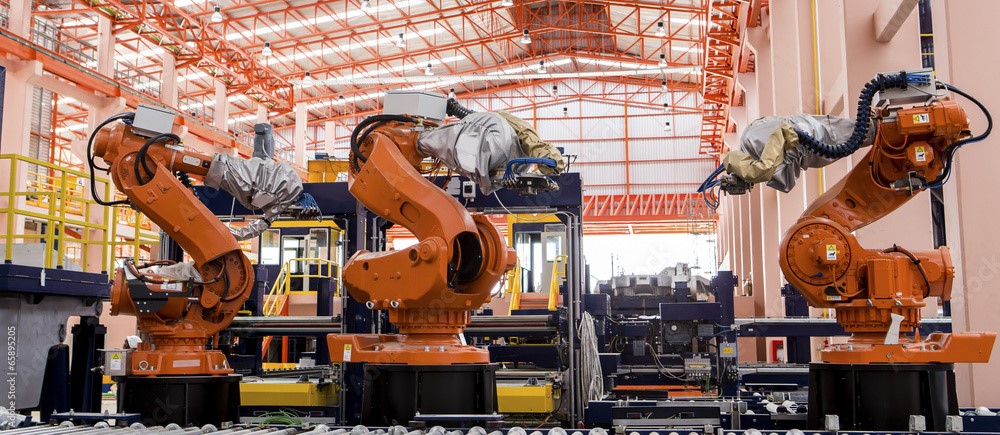 Industrial robot arms can be any size, depending on their application. Source: [Sasint/Adobe Stock]
The most common robot arm that is used is one with a reach of around five feet and six axes of movement. The size of robot arms depends directly on the application they will be used for, but this size is versatile enough to fulfill many roles. However, when an application requires a solution that is very small (or very large), there are generally no commercially available solutions or robots. Small robots can come in many different shapes and size, with inspection drones and small crawling robots being used where applicable, but it is typically very difficult to find a smaller-than-average robot arm. This is where the following examples of industrial robot arms that have claimed to be the "most compact industrial robot arm in the world", come in. Let's explore each model:
"Handheld" six-axis industrial robot arm
Coming in at half the size of a regular industrial robot, the Meca500 is touted by maker Mecademic as the smallest and most precise industrial robot arm in the world. It weighs just 11 pounds, and its base will sit comfortably in the palm of your hand. It has a load capacity of a whopping 1.1 lb and has a controller built into its base for convenience and simplicity. It works via a 24 V power supply and receives information through an ethernet cable and a computer.
World's smallest "cobot"
myCobot is a modular, lightweight and compact five-axis collaborative robot arm. "Cobot" stands for collaborative robot, and this refers to the robot's direct interaction with humans, or where humans and the robot work in close proximity. Whereas a lot of robot arms are designed to work in spaces where humans can not go, or where it is not safe, a "cobot" is designed to work alongside human workers.
This particular model is modular and allows for the attachment of several different effectors, which give it great versatility. It can be used in smart homes, education, the light industry and within scientific research. It also utilizes an M5Stack Basic controller attached to the bottom, giving the user the ability to visually program the robot arm through programs like RoboFlow and UIFlow.
"Fastest" compact robot arm?
Japanese company Yaskawa has claimed that its 15 lb six-axis robot is the smallest and lightest in the world. While it may not be the lightest in this list, it is designed specifically for assembling small parts, and its acceleration times are said to be 20% faster than its competitors. It has similar specifications to the Meca500 with a payload of 1.1lb, and noise levels less than 65dB (at maximum load).
Typical applications of this model are parts feeds, picking and placing of tiny components and connectors in assemblies, materials handling and sorting.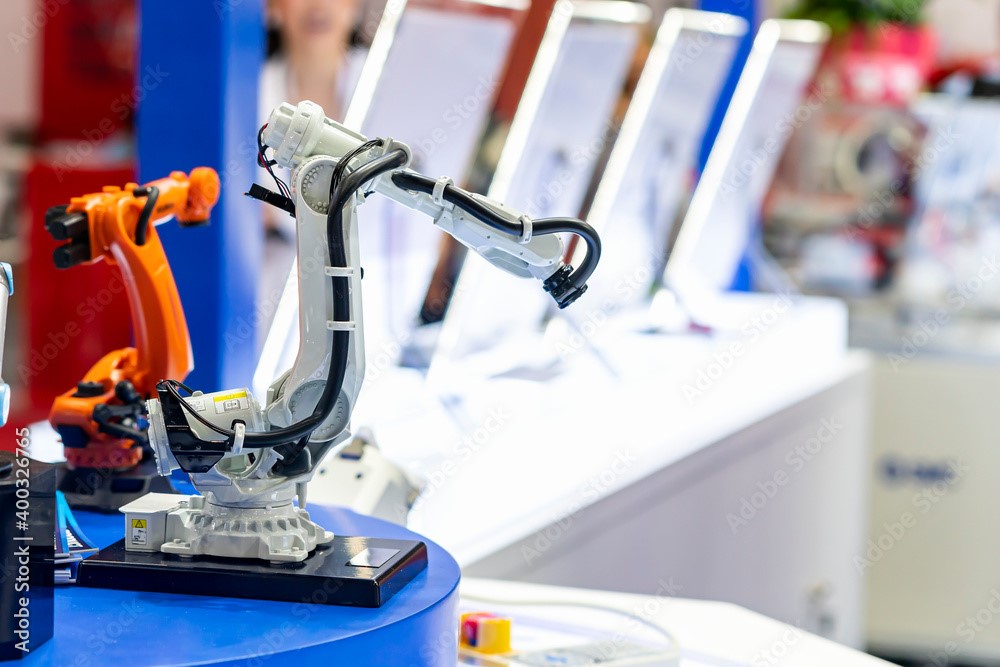 Smaller, tabletop robot arms similar to the above model are becoming more popular for select applications. Source: [Surasak/Adobe Stock]
Ease of use
This new line of industrial robot arms is just the beginning, and this movement is paving the way for new applications, discoveries and products. These specific models are generally designed to be plug-and-play devices. Communication with and controlling the devices is relatively simple, with all models having less than 50 proprietary commands. There isn't even a program to install for them; it is literally just a case of plugging them in to a computer or programmable controller. Then the programming stage can begin using a preferred programming language such as Python, Java, C# etc.
They can also generally be controlled via a web interface ran on a web browser. This gives users access to a jogging window, which allows for control through the arrow keys, a programming window and a 3D model of the robot arm itself.
How is it possible to make these robot arms so small?
It is quite an impressive design feat to fit all this technology into such a small form factor. Without leaving out any components, a drive must be included that is powerful, small, and complies with high-quality standards. In essence, the quality and precision of the device can not be compromised in order to reduce its size, and it must be able to operate reliably for years to come.
Brushless flat motors are used for these robot arms because of their high torque and compact design. In some cases, these motors are combined with high-resolution encoders and zero-backlash gearheads to ensure precise movements. This gives these industrial robot arms a repeatability of around 5x10-6 in, which in layman's terms is less than the thickness of a sheet of printing paper.
The main challenge with small robots is their size. Industrial applications that call for large solutions has its own challenges, but it not limited by technology. As time goes by and technology progresses, innovations in motor and communications will result in faster, stronger, more compact robot arms being created.
What is your opinion on this new technology? Robot arms definitely have their place solidified in the industrial world, but how advanced can these robots be made? Maybe with more advanced controls or the integration of artificial intelligence and machine learning they can achieve an even higher level of productivity. Let Engineering360 know what you think in the comments below!