ABB to showcase next generation robotic technologies at Automate 2023
GlobalSpec News Desk | May 18, 2023
ABB Robotics will feature next-generation robotic technologies enabling businesses to efficiently adapt production to variable market demands at the Huntington Place Convention Center in Detroit at Automate 2023, May 22 through May 25 (Booth #5623).
With an emphasis on flexibility and simplicity, ABB's mission is to provide the benefits of the automation industry's most comprehensive and integrated portfolio of industrial and collaborative robots, Autonomous Mobile Robots (AMRs), and machine automation solutions to companies of all levels of technical sophistication.
"We see a huge demand for automation in the U.S. as companies look to address issues such as labor shortages, consumer demand for personalized products, and the growing pressure to operate sustainably. Businesses of all sizes, across all industries, must be able to quickly adapt their processes to succeed in this period of unprecedented uncertainty," said John Bubnikovich, ABB's U.S. robotics division president. "ABB Robotics has been committed to serving the Americas market with robots made in the U.S. since 2015. The current $20 million expansion of our U.S. manufacturing facility will allow us to serve the local market at a higher level, bringing us even closer to our customers as we provide them the technology, expertise, and support necessary to transform these challenges into resilient competitive advantages."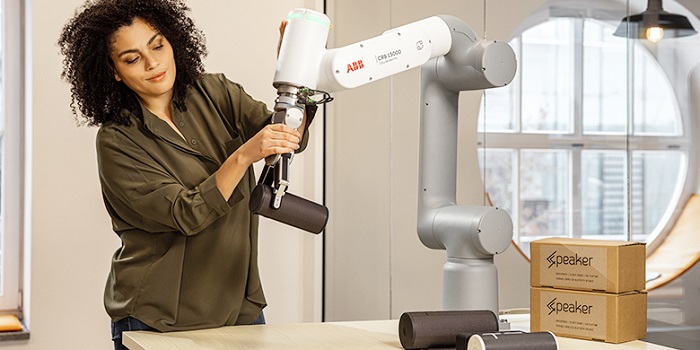 A GoFa collaborative robot. Source: ABB
Highlights of ABB's Automate booth include demos featuring its CRB 15000 GoFa collaborative robot and CRB 1300 SWIFTI collaborative industrial robot, newly branded ABB AMRs, a PixelPaint system for efficient two-tone decorative painting, and a printed circuit board assembly cell featuring the Dual-arm YuMi, ABB's original collaborative robot. Additionally, a STEM Education Package with an accompanying collaborative robot training cart showcases an ABB initiative to inspire students to pursue advanced manufacturing careers while preparing them for the future of work.
Providing a glimpse into the very near future, ABB will also preview major product introductions to be made at the Automatica trade show this coming June in Munich, Germany — two higher payloads GoFa collaborative robot variants, and a completely new series of large robots with 22 different variants.
In a whimsical nod to ABB's spirit of innovation, Jessica Ragzy Ewud, a renowned contemporary artist and LEGO master, will build a full-size LEGO replica of the ABB CRB 1300 SWIFTI collaborative robot at the ABB booth, with the assistance of a real SWIFTI Cobot and an ABB FlexFeeder. As a memorable keepsake, Ragzy will prepare a number of kits with all the necessary pieces and instructions for randomly selected ABB booth visitors to build a miniature LEGO SWIFTI of their own.