Watch: A Solar-Powered Method for Direct Carbon Dioxide Capture and Release
S. Himmelstein | September 20, 2018
Direct air capture of carbon dioxide offers the prospect of permanently lowering the atmospheric CO2 concentration, providing that economical and energy-efficient technologies can be developed and deployed on a large scale. A capture method devised at Oak Ridge National Laboratory (ORNL) is based on a previously developed process that uses an aqueous solvent composed of water and amino acids to grab the greenhouse gas from air.
The aqueous sorbent was demonstrated in a household humidifier to maximize contact between air and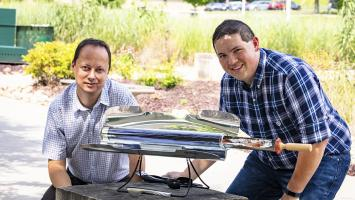 Radu Custelcean (left) and Neil Williams of ORNL used a solar-powered oven to generate mild temperatures that liberate carbon dioxide trapped in guanidine carbonate crystals. Source: Carlos Jones, ORNL, U.S. Department of Energysorbent and expedite CO2 uptake. The addition of a synthesized organic compound that contains guanidines to the loaded amino acid sorbent solution which contains bicarbonate yielded an insoluble, carbonate salt that precipitated out of the solution and regenerated the amino acid sorbent for reuse.
A thermodynamic analysis of the process indicated that because the CO2 is bound in a guanidine carbonate solid, it can be liberated at much lower temperatures (80 to 160° C) than from the inorganic salts used in current capture technologies. However, the heat needed to release the CO2 from the guanidine carbonate crystals is still significant.
Concentrated solar power was added to the scheme in the form of a solar-powered oven designed to use a parabolic mirror to concentrate the sun's rays. After guanidine carbonate crystals were placed on a tray inside the solar oven, the CO2 was liberated in as little as two minutes and the guanidine compound was also regenerated for recycling. Waste heat from industrial facilities or air conditioners could also be harnessed for this application.
The researchers have applied for patents describing the process, which at the bench-scale captures 100 g of CO2 in 24 hours. Future work will focus on designing simpler, more efficient guanidine-based sorbents and improving understanding of the structural, thermodynamic and mechanistic aspects of the direct air capture process.
"All crystals that we've made so far include water that hydrates the carbonate anions," explained lead researcher Radu Custelcean. "When you try to release the CO2, you have to desorb the water as well, and that takes most of the energy. We are trying to design next-generation guanidine ligands that bind the CO2 as 'dry' carbonate."