Public webinar on EV battery recycling
S. Himmelstein | June 07, 2022
A short, publicly accessible webinar on the challenges of recycling lithium-ion batteries and possible solutions is planned by U.S. Argonne National Laboratory. During the 15 minute event, ANL sustainability analyst Qiang Dai will detail how anyone can measure the costs of recycling these electric vehicle (EV) batteries and how the process affects the environment.
A major focus will be on the free EverBatt tool, an Excel-based model developed at ANL to evaluate cost and environmental impacts for the various lifecycle stages of a li-ion battery. It can be used to compare impacts of virgin batteries to those with recycled content, to compare processes and to identify sensitivities to various parameters. The software can be applied to different battery chemistries and cathode/cell production methods, and can also be extended to future battery chemistries or different products.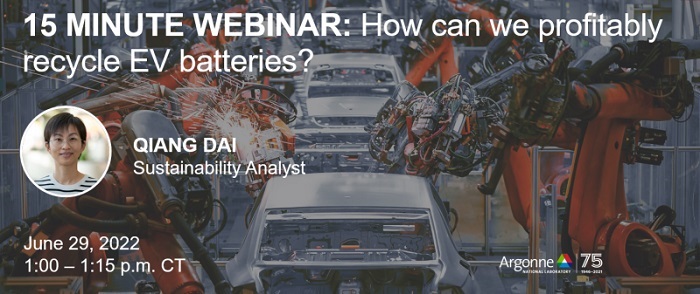 Register for this webinar, which is scheduled to be held June 29, 2022, at 1:00 PM to 1:15 PM CDT.