A greener battery chemistry for EVs
S. Himmelstein | August 12, 2022
The type of battery selected to power electric vehicles (EVs) can have a large impact on the environmental impact of this mobility mode. A battery technology comparison highlights the environmental benefit of emerging solid-state batteries, which can reduce the carbon footprint of EV systems by almost two-fifths relative to current battery chemistries. A solid-state battery, which stores more energy with less materials, can reduce the already decreasing carbon footprint of an EV battery by a further 24% when compared with lithium-ion technology.
A study commissioned by the European Federation for Transport and Environment compared a nickel-manganese-cobalt (NMC)-811 solid-state battery to available lithium-ion technology. Solid state technology uses solid ceramic material instead of liquid electrolytes to transmit electric current, which serves to make the batteries lighter, faster to charge and eventually cheaper. Battery manufacturers forecast that solid-state batteries will be used in EVs in the second half of the decade.
The new technology can reduce the climate impact of batteries even further — by up to 39% compared to current lithium batteries — if solid-state batteries are made using the most sustainably sourced materials. Lower climate impacts are associated with new mining methods such as lithium extraction from geothermal brines.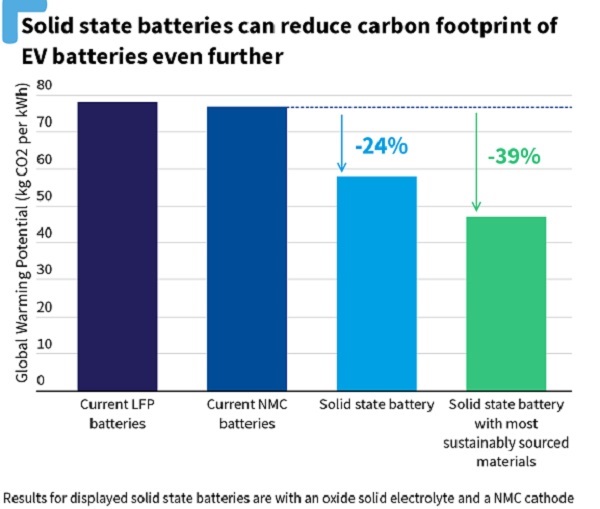 Results for displayed solid-state batteries are with an oxide solid electrolyte and an NMC cathode. Source: Minviro
While solid-state batteries could require up to 35% more lithium than the current lithium-ion technology, far less graphite and cobalt are used. Proposed European Union regulatory requirements for lithium to be sourced responsibly and recycled will ensure sufficient supply for solid-state batteries.