This robot dog offers safe and reliable site management
Emily Councilor | May 18, 2022
A four legged robot dog, aptly named Spot, is being piloted for industrial operations where it may be hazardous or otherwise less effective for humans to do so themselves.
The robot was deployed on a Bam Nuttall construction site on a Shetland island in Scotland to test pilot the remote capabilities created with Boston Dynamics and other collaborators and investors, and the results were impressive and immediate. The robot succeeded in taking on days of operational site mapping and reliable data transmission amid its harsh environmental surroundings.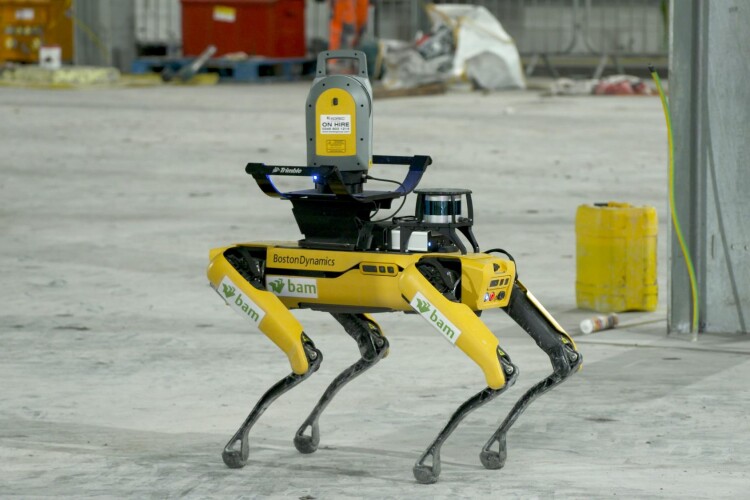 The team controlling Spot didn't even have to be on the same island. Source: www.theconstructionindex.co.uk
Using a standalone 5G communications network and 3D laser scanning equipment created for remote access to the robot, the team successfully guided Spot and it's Trimble X7 payload over the entirety of a near-600,000 sq ft site. This was the robot's first 5G deployment in the U.K., with no network disruptions despite the harsh weather it operated under. In fact, the team controlling Spot didn't even have to be on the same island — an impressive accomplishment for remote capabilities.
The challenging terrain did not get in the way for the robot, which surveilled and accurately mapped a comprehensive view of the site's construction progress and maintenance operations for the large Bam Nuttall site.
Brian Ringley, construction product manager for Boston Dynamics, said, "This project is exciting for us because it's exactly the kind of application where a robot inherently makes sense and can immediately add value. It also shows that we can operate Spot effectively from hundreds of miles away and collect very reliable, repeatable data. It keeps staff from needing to travel to remote and hazardous locations, and it makes the entire surveying project run more efficiently."
Automated remote networking capabilities like this offer a welcome respite from labor shortages and skyrocketing industrial operating costs. Now that the robot has proven to be reliable long-distance, the list of possibilities for its performance is lengthy. General operation oversight, autonomous surveying and indexing, construction progress and safety reporting, maintenance needs and repair ventures and more are on the list of job duties for Spot.