A doctor, a firefighter, a Mick Jagger impersonator: Spot the robot dog does it all
Marie Donlon | April 29, 2022
In its brief lifetime, following its 2015 introduction by robotics manufacturer Boston Dynamics, Spot the robot dog has held down a number of different jobs.
The 70 lb quadruped dog-like robot has been trialed by many an industry, ranging from the healthcare sector to the entertainment sector. Follow along with Engineering360 as we explore how several industries have employed Spot the robot dog.
Security guard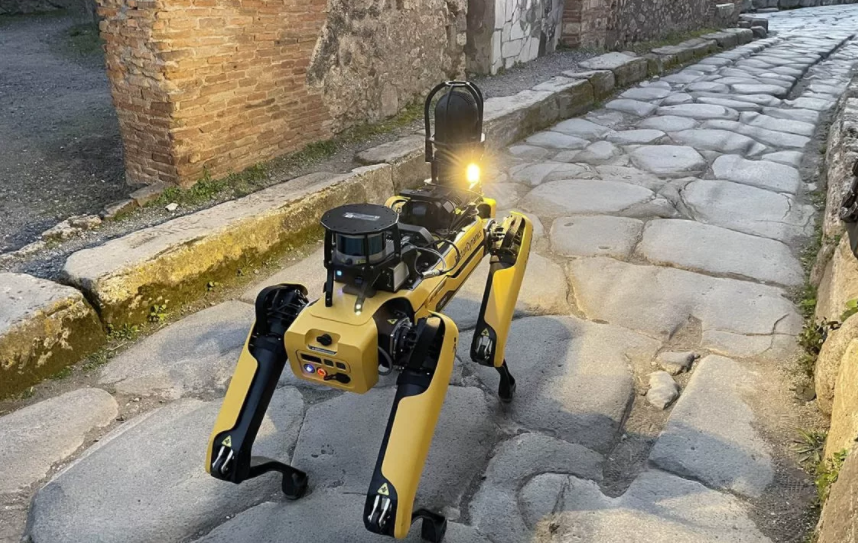 Source: Archaeological Park of PompeiiVisitors to the ancient Italian city of Pompeii, the site of the Mount Vesuvius eruption of AD 79, which covered the city and its people under ash and pumice, will likely take notice of the robotic dog traversing these ancient streets. Spot is currently employed as a security guard in the ancient city, autonomously protecting the historic site against relic hunters. Making Spot uniquely qualified for such a task is the robot's ability to navigate uneven terrain and its ability to access subterranean areas that would be dangerous to human security guards. Equipped with cameras and sensors, Spot is able to "spot" intruders while also capturing 3D data of Pompeii's remaining structures.
Firefighter
Expanding upon its security guard skill set, Spot has recently been recruited by the FDNY to perform search and rescue tasks alongside New York City firefighters. According to reports, Spot can access collapsed buildings, traverse rugged terrain and collect data about a structure's integrity to ensure that firefighters can safely enter a building. Additionally, the robot dogs can also reportedly measure the concentration of dangerous gases in a structure.
Similarly, Spot also worked for the NYPD, autonomously performing surveillance tasks while also offering police officers visualization in dangerous circumstances such as hostage situations, bomb threats and active shooter incidents. However, Spot, known to the NYPD as Digidog, was let go amid backlash surrounding concerns from the public.
Artist/philanthropist
Exercising its artistic side, Spot has created abstract paintings autonomously with its paws to raise money for Ukrainians displaced by war. One of Spot's pieces, 'Sunrise March,' was recently sold at auction for $40,000 via a campaign organized by Polish-American artist Agnieszka Pilat.
Inspector
Spot is adding to its already impressive resume via a partnership with both IBM and National Grid. As part of the partnership, Spot will perform autonomous inspections for the electric and gas utility company. To accomplish that, Spot will be integrated with artificial intelligence (AI) and hybrid cloud technology from IBM. In addition to autonomously inspecting assets, Spot will reportedly perform data analysis, improve worker safety and increase maintenance productivity.
Farmer
As part of its RobotCrop Project, which seeks to develop technology to achieve a more sustainable agricultural sector, the U.K.'s Manufacturing Technology Centre (MTC) has turned Boston Dynamics' robotic dog Spot into an agricultural robot.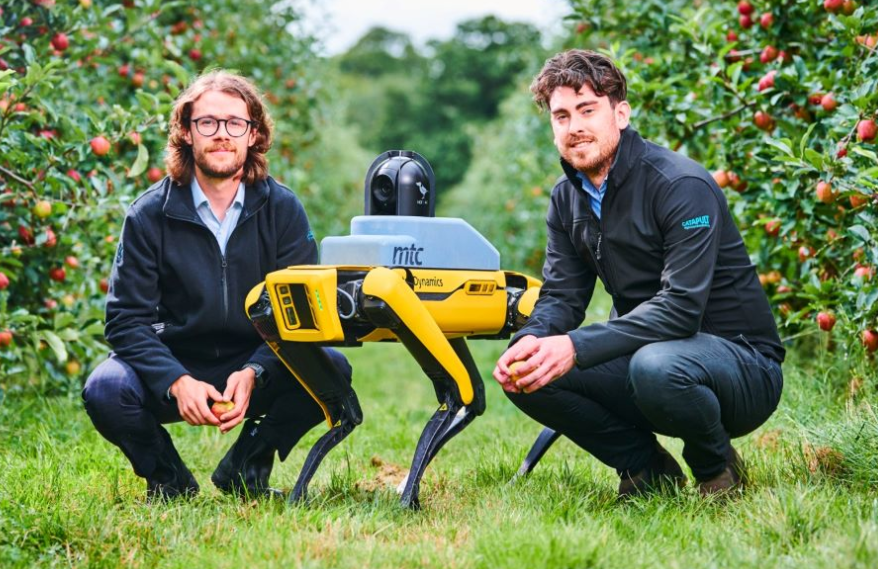 Source: MTC
The autonomous Spot robot was outfitted with a newly designed payload that enables the robotic dog to perform autonomous agricultural inspections to check crops for quality and ripeness, pests and diseases — all while dispensing pesticides only when absolutely appropriate.
MTC aims to use Spot to eventually increase crop yield, improve produce quality, reduce labor costs and free up resources for value-added tasks in the agricultural industry, according to the organization.
Thanks to AI and computer vision, Spot can scan crops for pests, diseases, quality and ripeness, navigate rough terrain, offer real-time feedback and access typically inaccessible spaces, according to the MTC team.
Manufacturer
Automotive manufacturing giant Hyundai Motor, which acquired Boston Dynamics in mid-2021, has announced a pilot test of its factory safety monitoring robot, the "Factory Safety Service Robot."
Hyundai Motor has transformed Spot robot dogs into a system that maintains the safety of personnel in the manufacturing space.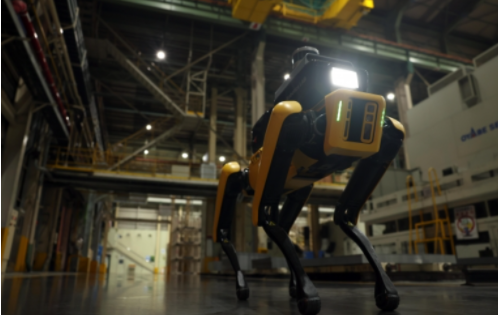 Source: Hyundai Motor
The pilot, which is being conducted at a Kia Manufacturing plant in South Korea, is testing the Factory Safety Service Robot's features, which include AI for detecting people in the manufacturing space, a thermal camera for detecting high temperatures associated with fires and other risks, navigation technology for moving within the space and lidar technology for detecting open doors and other possible obstacles.
The Factory Safety Service Robot can also be remotely operated, shares real-time photos of the facility floor and issues an alarm in the event of an emergency.
For more information on the Factory Safety Service Robot, watch the accompanying video that appears courtesy of Hyundai Motors.
Oil and gas worker
Spot has been hired by Aker BP, one of the largest oil companies in Europe, and Cognite, an AI software-as-a-service (SaaS) company, to determine how robots can improve offshore operations.
According to the partnership, Spot's mobility in simulated oil and gas environments will be tested to ensure that it can access locations in offshore facilities that are too difficult to access via traditional means.
Cognite and Aker BP are testing Spot to gauge its performance in autonomous inspection, data capture and automatic report generation. Spot could also one day perform tasks that include aerial and underwater inspections, leak response and other tasks that would remove humans from dangerous situations, offering operators telepresence on offshore installations.
Construction worker
Spot has entered into partnership with a company called Trimble, which produces data collection sensors and field control software.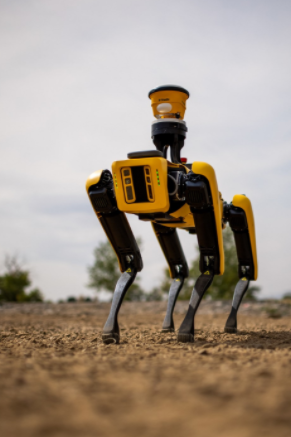 Trimble and Boston Dynamics announce a strategic alliance to extend the use of autonomous robots in construction. Source: Trimble and Boston Dynamics
Integrated into the Spot mobility platform, the technology will enable the automation of repetitive tasks along with the ability to navigate potentially unsafe environments. Spot, according to Trimble, will be able to perform activities such as site scans and monitoring, so construction project managers can view ongoing jobsite progress. The integration of Trimble technologies with the robot is expected to allow for accurate, scalable and rapid data acquisition.
Healthcare worker
To protect healthcare workers from possible exposure to COVID-19, researchers at Massachusetts Institute of Technology (MIT) and Brigham and Women's Hospital enabled a Spot robot from Boston Dynamics to contactlessly take a patient's vital signs.
The researchers outfitted Boston Dynamics' Spot with four cameras — one infrared, three monochrome — to measure a patient's temperature, breathing rate, pulse and blood oxygen saturation from just over 3 ft away. The cameras work in conjunction with algorithms developed by the researchers to detect elevated temperatures and other signs of the virus.
Controlled via handheld device, the robot also features a tablet where the doctor can interface with the patient from a remote location, thereby keeping a safe, contactless distance from a potentially infected patient.
To see how the robot maneuvers, watch the accompanying video that appears courtesy of MIT.
Mick Jagger impersonator
If you thought Spot the robot dog is all business, you'd be wrong. The quadruped has also been hard at work mastering the moves that made Mick Jagger famous. In a nod to the 40th anniversary of the Rolling Stones' hit "Start Me Up," Boston Dynamics re-created the video for Start Me Up with Spot the robot dog mimicking the gyrations of one Mick Jagger.
Watch the accompanying video that appears courtesy of Boston Dynamics to see Spot mimicking Mick Jagger.
A firefighter. A doctor. A security guard. A Mick Jagger impersonator. Spot the robot dog does it all. Check back with Engineering360 to see how Spot continues to build its resume.