Video: Titan to de-paint planes using robots, laser ablation
Marie Donlon | May 17, 2022
A new laser-based de-painting system from Titan Robotics, a spinout from the National Robotics Engineering Center (NREC) at Carnegie Mellon University (CMU), featuring specially engineered cables manufactured by Igus, a manufacturer of continuous flex cables, is automating the potentially hazardous process of de-painting airplanes.
The new laser-based de-painting system employs robots capable of performing laser ablation to de-paint planes by exciting and then subsequently vaporizing molecules. According to the company, the robots use lidar to 3D map surfaces to be de-painted, navigating around airplanes via mobile bases as they use continuous wave lasers to remove paints and coatings without damaging the surfaces of the plane.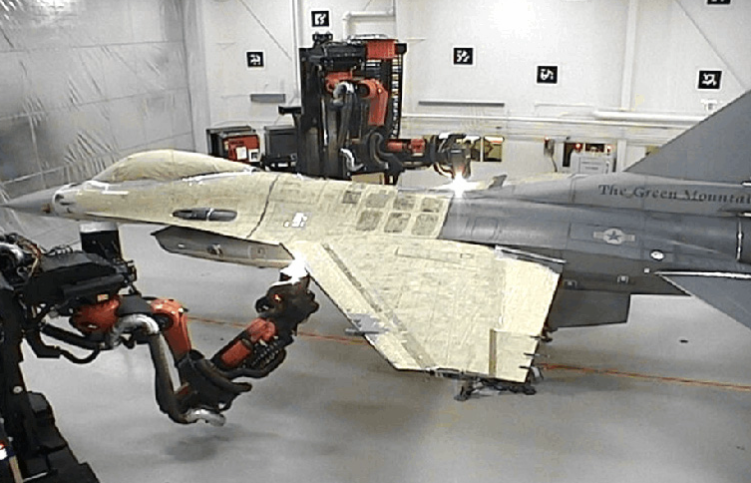 Source: Titan Robotics
Additionally, the power supply and other critical connections, including the laser fibers, are protected by a triflex system manufactured by Igus, which is capable of holding as many as 16 cables simultaneously. Likewise, the triflex system is capable of three-degree freedom of movement.
De-painting is an important component of aircraft maintenance wherein coatings and paints are removed from the surface of aircraft roughly every five years to enable the inspection of airplane surfaces. However, most aircraft paints contain hexavalent chromium, which can be harmful to humans, causing a range of health-related issues. The blasting of paint from the surfaces of these planes can also result in a significant amount of hazardous waste.
Yet, Titan Robotics believes that the system of robots autonomously using laser ablation to de-paint planes could reduce human exposure to such dangerous materials and potentially result in a 90% reduction in hazardous waste.
For more information on de-painting using Titan's laser ablation system, watch the accompanying video that appears courtesy of Titan Robotics.