Automation in the Aerospace Industry: The Challenge and Promise of Integrating Robots Into the Production Process
Eric Olson | October 08, 2018
Business is booming for the aerospace industry. Airplane manufacturers are struggling to keep pace with demand, accumulating a 10 year backlog of orders despite delivering a record number of aircraft in 2017. As a result, manufacturers are increasingly looking toward automation to speed up production. But integrating robotic solutions into aerospace production processes comes with a number of challenges and risks.
At a recent discussion hosted by the Robotics Industry Association, a panel of experts sat down to discuss some of the issues facing robotics in aerospace automation. The panelists included Bethany Colbry, application engineering supervisor at ATI Industrial Automation; Chris Blanchette, executive director of global accounts at FANUC America Corporation; and Sean Jaworski, director of technology at Güdel.
High Potential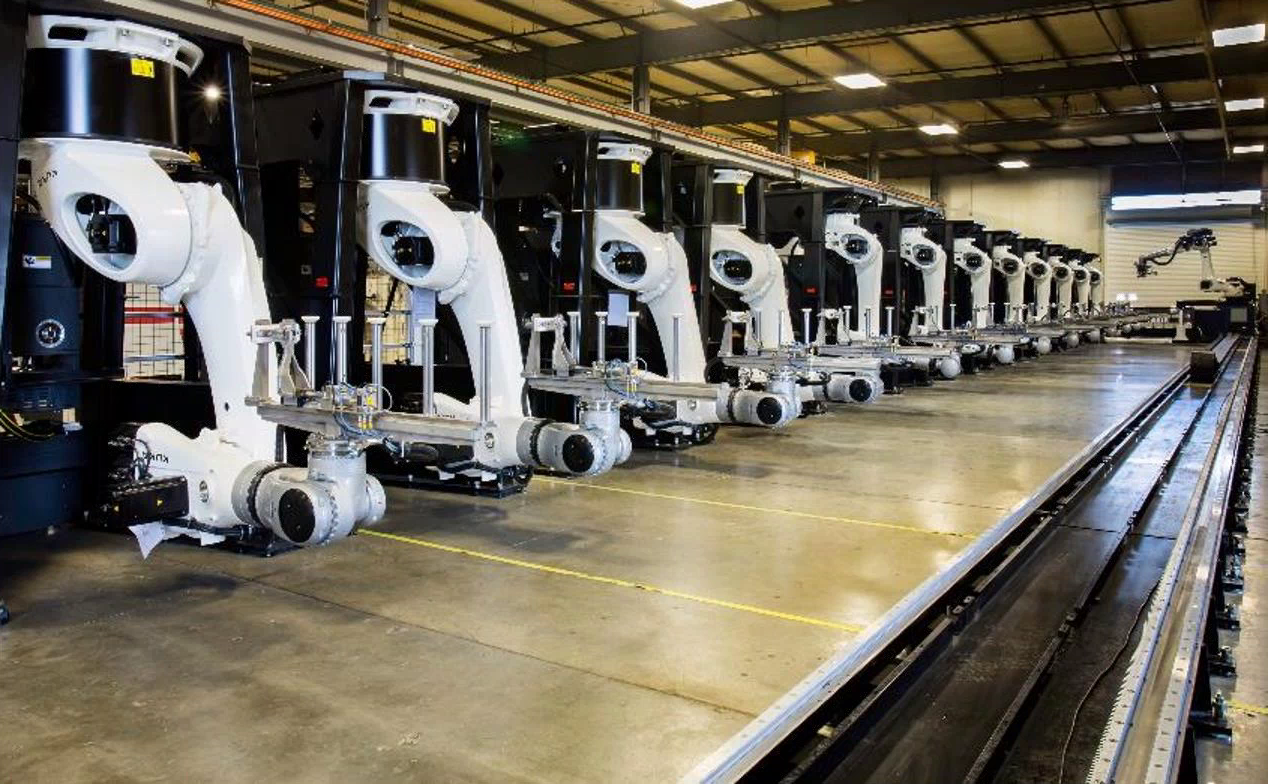 A line of robots stands ready to position various carbon fiber parts for non-destructive inspection by the robot in the background, which is equipped with an ultrasonic test head and sits on a track on which it can move up and down the line. Source: ATI Automation
The panel pointed to a number of operations in the aircraft production process that have high automation potential. From fabrication tasks like carbon fiber lay-up, trimming, routing and drilling to assembly jobs like riveting and welding to finishing processes like sealing, painting and coating, there are myriad opportunities to increase efficiency through automation.
Panelists indicated a number of benefits of automation, including keeping people safe by letting robots handle hazardous tasks such as surface paint removal in a xenon flash laser ablation process. Robots can also fit into hard-to-reach places while maintaining high accuracy and repeatability surpassing that of humans – capabilities that proved vital in meeting the 30 thousandths-of-an-inch tolerance requirement for holes drilled inside the engine inlet air duct of the F-35 fighter jet.
Automation can also speed up the critically important but slow manual inspection steps of aircraft production. "Inspection is typically a very time-consuming operation," said Chris Blanchette. "By allowing robots and automation to do it, you take the human element out of the process."
Challenges
Despite the many benefits promised by automation, the panel pointed to a number of challenges involved with integrating robots into the aerospace production process.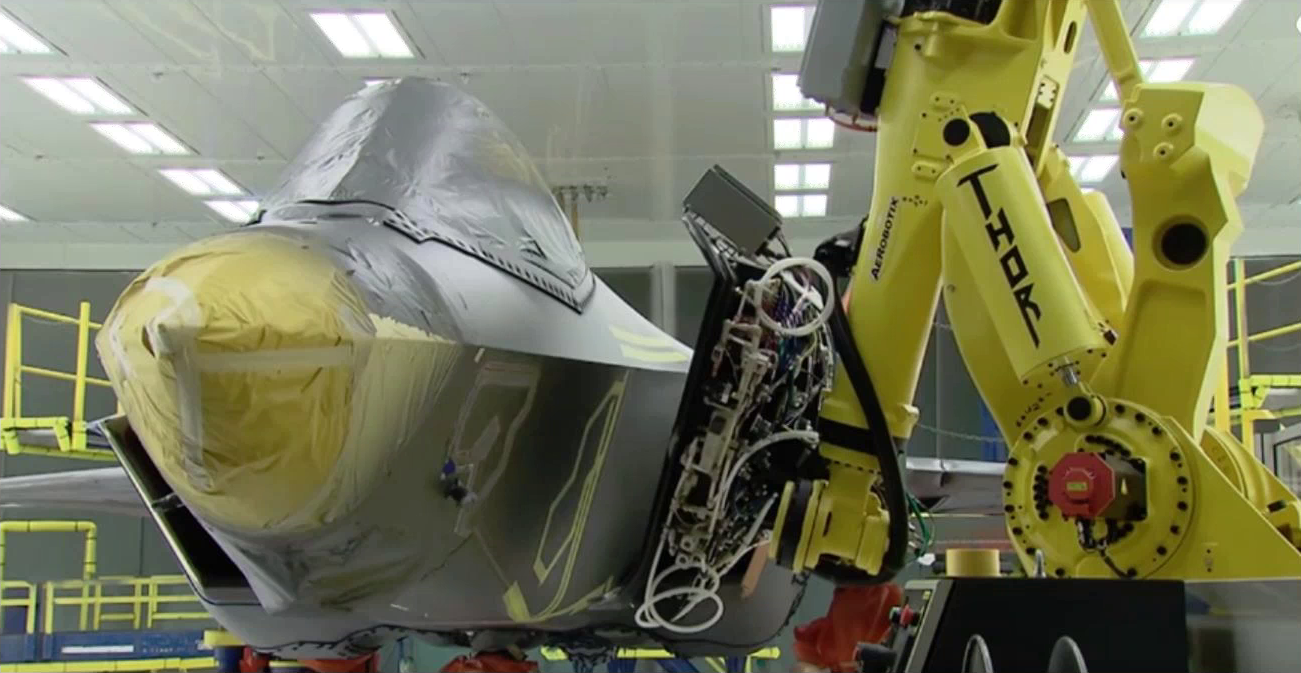 A robot precisely contours the surface of an F-35 combat aircraft in an injection molding process by accurately positioning a mold-in-place tool against the plane. Source: FANUC America
An airplane is a complex, highly engineered machine comprised of thousands of components. Each of these parts must be manufactured to a high degree of accuracy. The assembly and finishing processes that bring an airplane to completion must also be carried out with a high degree of accuracy.
This becomes an issue when dealing with the large size and weight of aircraft parts. Precise positioning of large, heavy components during assembly of the fuselage or wings can be difficult to accomplish with robots. As a result, in many cases it makes more sense to bring the robot and tooling to the aircraft rather than bring the part to the robot. That means robots need mobility to move around the factory floor – a non-trivial undertaking that can completely change the flow of operations at a plant. In addition, many processes retain some level of human involvement after automation, imposing requirements on the safe operation of robots around people.
The type of materials used for aerospace components, such as carbon fiber and composite fiber, also presents challenges. "Especially for very long parts, you have to worry about the strength and stiffness of the part as well as your tooling and robotics to be able to achieve the high accuracies that aerospace requires," said Sean Jaworski.
Risk Reduction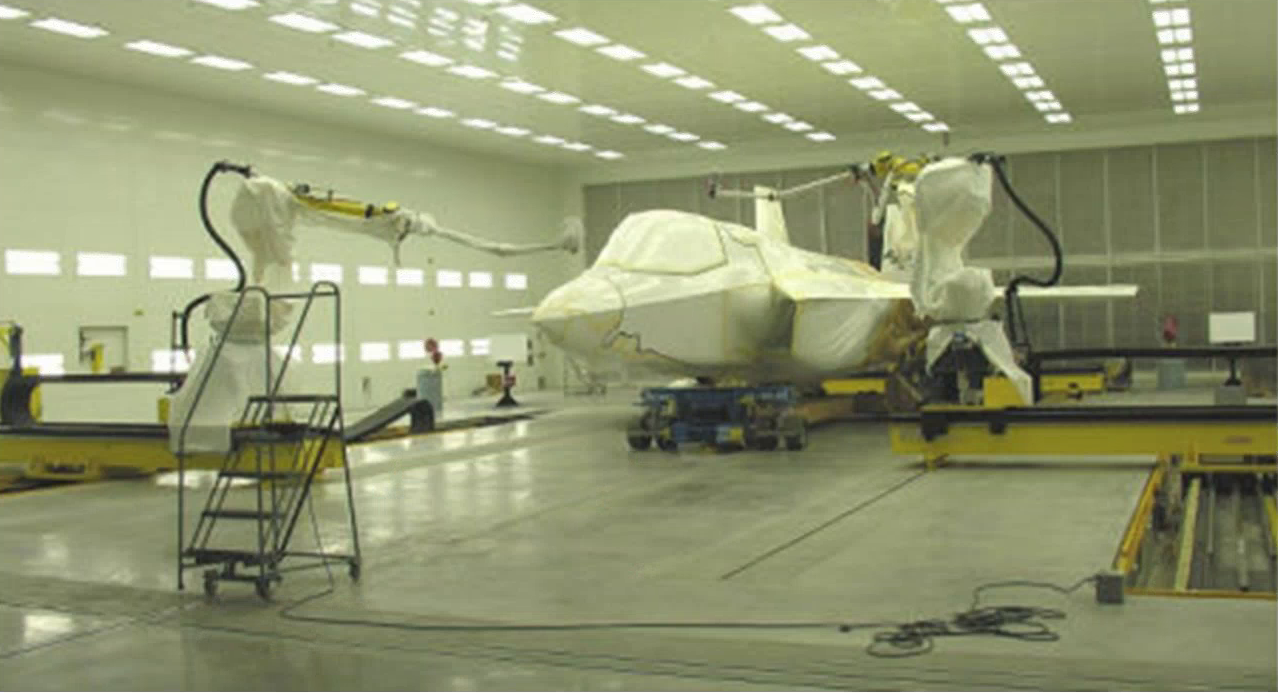 Multi-axis coordinated-motion robots apply paint at precise locations on an F-35 Joint Strike Fighter while maintaining a consistently exact coating thickness. Source: FANUC America
These challenges mean that, as with any endeavor, success is not guaranteed when automating aircraft production. The panel, however, talked about a number of approaches to mitigate risk for aerospace manufacturers. First, component producers should design their parts with automation in mind to steer clear of avoidable costs. Parts engineered for production on non-automated machinery can sometimes have GD&T (geometric dimensioning and tolerancing) requirements that unnecessarily increase the price and complexity of the robotic solution when transitioning to an automated production process.
The panel also stressed the importance of collaboration between aerospace manufacturers, OEMs, suppliers, and research and development companies, suggesting the creation of consortiums. These organizations could provide a platform to share ideas, technology developments and best practices for automation in the aerospace industry, drawing on the strengths and expertise of each member to improve outcomes for everyone in the group.
"The automation community can learn a lot from the aerospace community, and vice versa," said Sean Jaworski.
Future Trends
Looking toward the future, the panel speculated on some of the automation trends they expect to see in the aerospace industry.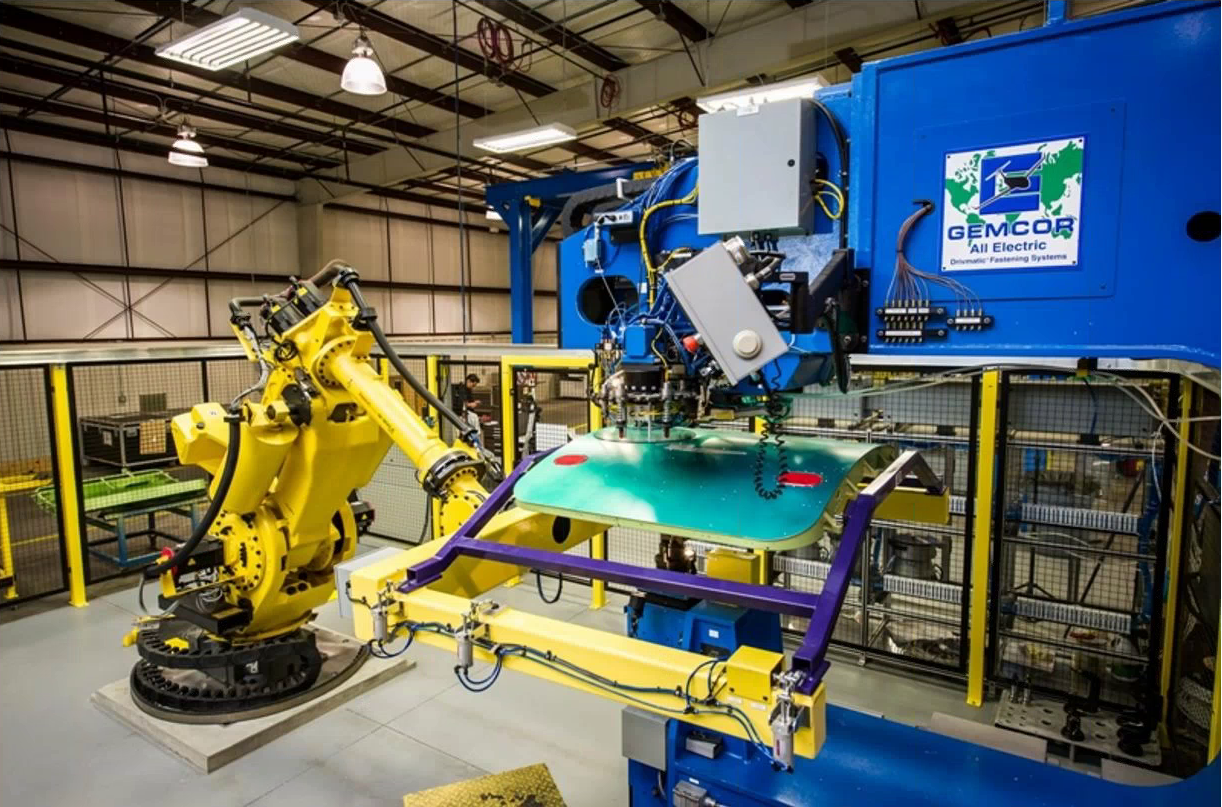 Secondary encoder control enables a robot to position a panel with very high precision for another robot that will perform drilling and riveting operations on the panel. Source: FANUC America
Robotic equipment and end effectors will continue to scale up to handle higher load capacities as they are deployed to work on the largest aircraft components. "Five years ago we may have needed a tool changer to support a 500 or 700 kg fiber placement machine," said Bethany Colbry. "Now that tool changer needs to support over 2,000 kg of payload."
According to the panel, as robotic manufacturing cells become more flexible – handling a variety of parts in the same cell instead of requiring dedicated cells for specific parts – the full potential of automation to increase production throughput will begin to be realized. Aerospace manufacturers seeking to reduce costs to remain competitive will continue to replace traditional machine tools with robotic solutions with ever-increasing position and path accuracy.
The panel also predicted that robots will be guided by improved intelligence, including vision-based and force and torque feedback solutions. Artificial intelligence and machine learning will allow robots to carry out increasingly complex tasks and reduce the time it takes to program and teach them how to function.
As aircraft manufacturers pursue higher production efficiencies and lower costs, automation seems destined to assume a growing role in the aerospace industry.
See the video at the top of this article for a look at how Boeing is combining automation and manual work to assemble its 777 aircraft. (Video credit: Boeing)