Video: Revamp for marine energy development toolkit
S. Himmelstein | May 23, 2022
The energy available from wave, tidal and other marine energy resources is equivalent to about 80% of the annual electricity needs in the U.S. An open-source knowledge hub has been engineered by the U.S. national laboratory researchers to help energy developers harness these resources.
The Marine and Hydrokinetic Toolkit (MHKiT) provides users with the code needed to analyze how well their technology might perform in various ocean and river sites. Recently updated, the toolkit now includes data on tidal and river energy resources, turbulence and other factors that affect how technology functions underwater, analysis of extreme waves and more.
The data road map devised with participation by the U.S. National Renewable Laboratory, U.S. Pacific Northwest National Laboratory and U.S. Sandia National Laboratories processes, visualizes and manages data on everything from a device's power production and ability to withstand various mechanical loads to how much energy flows through ocean and river sites across the U.S.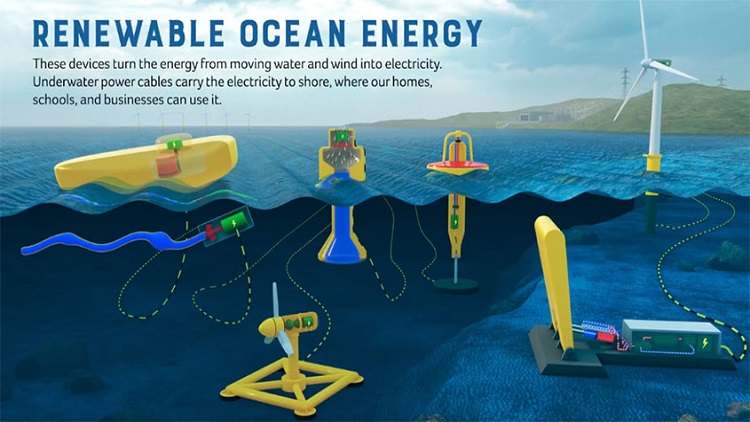 The MHKiT data collection and processing tool will support development of wave, tidal and other marine energy systems. Source: U.S. Department of Energy
The shared software and data in the MHKiT system are free, standardized and quality controlled and available in both Python and MATLAB. Updated versions for each platform were recently released: on its Python platform, MHKiT now houses data for tidal and river resources, including how much energy is available at which sites, how fast and turbulent the waters are at those sites, and what underwater obstacles— like sand and stones — might interfere with a device's performance. Wave energy developers can now analyze extreme waves their machines might face at a specific deployment site.
The MATLAB platform now incorporates wave height, current speed, water temperature and other data gathered by buoys managed by the Coastal Data Information Program. To better predict the weather and climates that marine energy systems might encounter offshore, the system developers added historical wave data. When complete, this hindcast dataset will cover the entire U.S.