Video: Ocean Cleanup devises new tools to trap plastic debris
S. Himmelstein | April 17, 2022
The Ocean Cleanup is expanding its toolkit for capturing river borne plastic debris before it enters the world's oceans. The solar-powered Interceptor system designed to scoop up debris transported by river currents is now joined by the Interceptor Barrier and the Interceptor Tender.
The Interceptor Barrier is a simple structure composed of reclaimed plastic that can stretch across rivers and streams to block floating garbage before it can enter the ocean. Under optimal operations, the Interceptor can extract 50,000 kg of plastic per day. The Interceptor Tender is a smaller crewed boat designed to tend to the Interceptor Barriers and empty out the waste collected using a large conveyor belt. The barge can travel between barrier sites to collect debris, which is then offloaded into an onshore dumpster. More agile than the previously deployed and larger Interceptors, it can enter shallow waters that were unreachable before.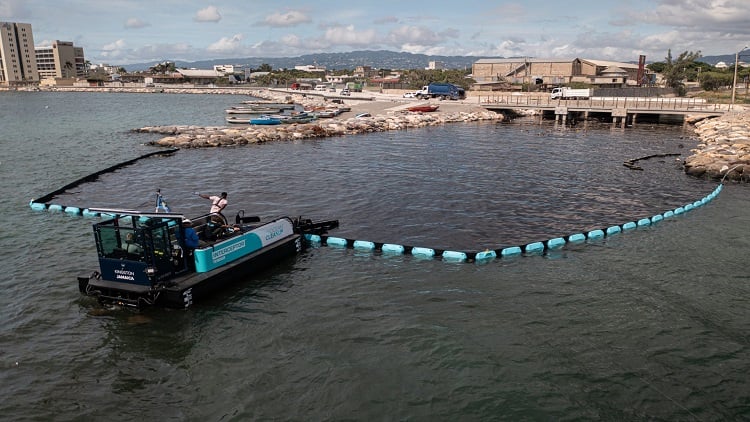 Interceptor Barrier and Interceptor Tender deployed in Kingston Harbor, Jamaica. Source: The Ocean Cleanup
The Netherlands-based company will test these systems at the Barnes Gully in Kingston, Jamaica, as part of its quest to tackle plastic in the 1,000 most polluting rivers within five years from rollout.