Video: The major contributors to the Great Pacific Garbage Patch
S. Himmelstein | October 21, 2022
Covering an area of about 1.6 million km2, the Great Pacific Garbage Patch (GPGP) contains an estimated 1.8 trillion pieces of floating plastic debris, with a total weight of around 88,000 tons. The Ocean Cleanup project was launched in 2013 to reduce the size of the GPGP by towing a U-shaped barrier between ships to retrieve this waterborne waste.
Research conducted by this group has confirmed that almost half of the plastic mass in the GPGP is comprised of fishing nets and ropes, with the remainder largely composed of hard plastic objects and small fragments. But where does all of this pollution originate?
New research published in Scientific Reports is based on the analysis of over 6,000 hard plastic debris items from the GPGP, with each item sorted into predefined item categories and inspected individually for evidence of country of origin and date of production. Almost half of plastic objects that could be dated were produced in the 20th century, with the oldest identified item being a buoy dating from 1966.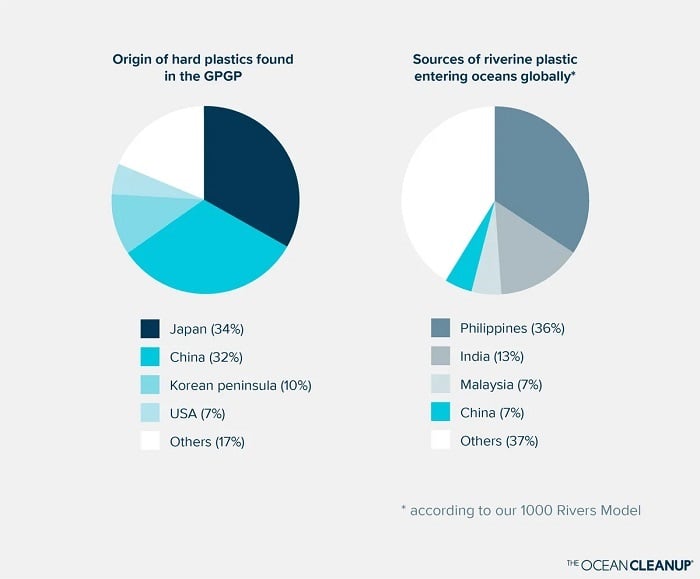 Origins of hard plastics recovered from the GPGP (left), and national sources of riverine plastic into global ocean (right). Source: The Ocean Cleanup
Japan, China, the Korean peninsula and the U.S. contributed 34%, 32%, 10% and 7% of this floating plastic debris, respectively. While these areas are not recognized as major sources for riverine plastic emissions into the ocean, they do conduct the majority of industrialized fishing activities in the GPGP region. Trawlers, fixed gear and drifting longlines accounted for more than 95% of identified fishing activities that may account for emissions of floating plastic debris into the GPGP.