NETZSCH presents new high-performance peristaltic pump — The PERIPRO
Diana Aoun | March 31, 2022
NETZSCH Pumps and Systems has recently expanded its portfolio with its all-new PERIPRO peristaltic pump. This new product offering covers even the most complex applications across a range of industries. The PERIPRO peristaltic pump combines the advantages of the roller and shoe principle to deliver a highly flexible solution that can handle difficult applications and media. The pump is available in an industrial, chemical and food version.
Uniquely designed with a large roller diameter, the PERIPRO consumes up to one-third less energy compared to similar pumps while simultaneously increasing the service life of the hose. In the absence of any valves or mechanical seals, the pump requires almost no wearing parts. The only wearing part is the hose, which has been specially designed for exceptional durability thanks to an innovative manufacturing process. In addition, all PERIPRO models are insensitive to dry running and have a low lubricant requirement. The conveying direction can be easily reversed in all versions without any performance loss and the pump can deliver extremely high dosing accuracy with deviations of less than 1%.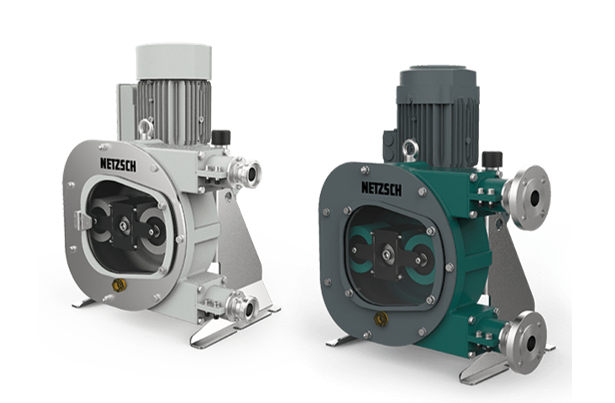 Source: NETZSCH
The robust design of the industrial version of the PERIPRO, including the hose pump, enables the conveyance of abrasive and aggressive media in a wide variety of applications. The unique design features a very high suction capacity that enables pumping of media such as sludge or ceramic slurries without difficulty.
The PERIPRO chemical version offers a high level of reliability even when conveying corrosive media, while ensuring maximum dosing accuracy. The PERIPRO housing is covered with a special Tefzel coating, making the pump extremely corrosion resistant. The hose pump in the chemical version is available in selected material designs to suit the required application.
Thanks to its innovative design, the new PERIPRO food-grade version enables pumping without the risk of contamination. With CIP (Cleaning-In-Place) capability, cleaning can be carried out within the system, as the rollers can be easily removed via a flap in the cover. The hose is also manufactured from food-grade FDA certified nitrile.
The PERIPRO delivers flow rates between 0.2 m3/h (7.1 ft3/h) and 13 m3/h (459.1 ft3/h) and pressures of up to 10 bar (145 psi). It is suitable for industrial, water treatment, petrochemical, mining, agriculture and maritime applications.