Video: Flowrox LPP-T transferring hose pump incorporates an advanced design to maximize efficiency
Diana Aoun | May 27, 2022
The recently launched Flowrox LPP-T transfer pumps by Valmet feature an advanced rolling design, which minimizes friction, maximizes hose life and reduces energy consumption. This latest product offering from Valmet is ideal for demanding processes involving abrasive, corrosive, viscous or crystallizing media with high solids content.
Flowrox LPP-T transfer pumps are equipped with a patented hose flange and reliable inline pipe connections, as well as a hose leak detection unit. In addition, a patented hose compression adjustment mechanism helps to maximize hose service life and minimize the risk of over-compression.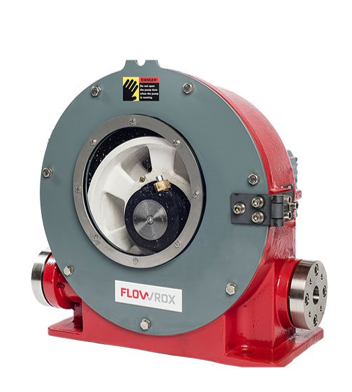 Source: Neles
Benefits of the Flowrox include capability to pump 24/7, no overheating at high continuous flow rates, no mixing or shearing, energy efficiency and low operating costs as well as ease of maintenance.
Some notable design features of the LPP-T hose pump include an advanced single roller design that eliminates friction, reduces energy consumption and contributes to a hose service life three to five times longer than conventional hose pumps. The pump design also enables the pumping of slurries with up to 60% to 80% solids content, and the wear-resistant hose and connection flanges are the only parts in contact with the medium. The pump has very low lubrication needs, only 20% that of conventional peristaltic pumps.
The LPP-T hose pump is ideal for applications such as thickener underflow, tailings, filter feed, storage tank transfer, negative suction lift duties (e.g., sump pumping) and more. The LPP-T100 (LPP-T 4-inch) is one of the world's largest hose pumps, with a maximum continuous flow of 100 m3/h (440 US gpm). A range of smaller models are also available.