Edible bioprinting may thwart counterfeit meds
Marie Donlon | March 15, 2022
Biomedical engineers from Purdue University have developed anti-counterfeiting technology for determining the authenticity of pharmaceuticals and medications.
With a rise in the number of online, mostly unregulated, pharmacies emerging in step with a rise in ecommerce, counterfeit medications and pharmaceuticals are subsequently also increasing. As such, the Purdue team has created a cyber-physical watermark to confirm the authenticity of such medications.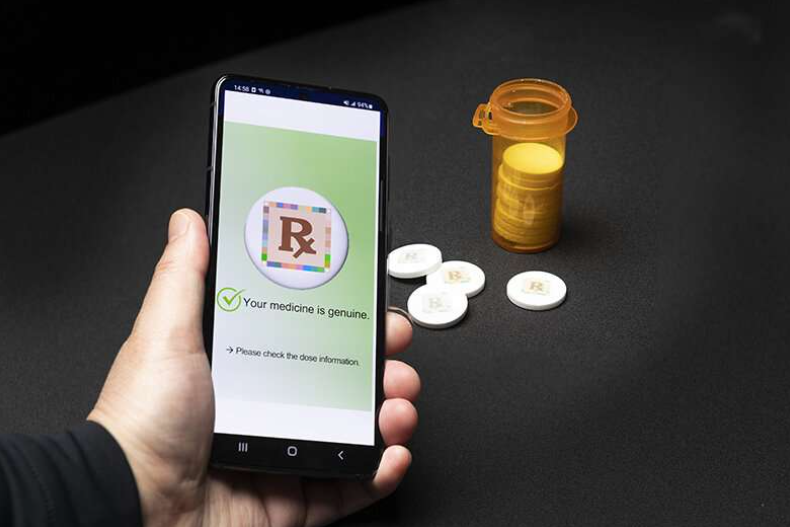 Source: Purdue University
Affixed to individual pills using a sugar glue, the watermark is reportedly composed of silk — an edible protein — and a U.S. Food and Drug Administration (FDA)-approved food dye that is printed via inkjet printer.
To confirm the authenticity of the pill, users can take a picture of the individual pill and the affixed watermark — which is tough for counterfeiters to duplicate — to reveal a hidden digital key, which serves to authenticate the pill. Researchers suggest that the technology can also reveal other information about the pill in question, including dose and frequency data.
So far, the smallest watermark the Purdue team has yet to achieve is 5 mm x 5 mm. Additionally, the team is hoping to develop a cyber-physical watermark for liquid medications.
The study, Cyber‐Physical Watermarking with Inkjet Edible Bioprinting, appears in the journal Advanced Functional Materials.