Purdue researchers develop edible security tag for pharmaceuticals
Marie Donlon | January 17, 2020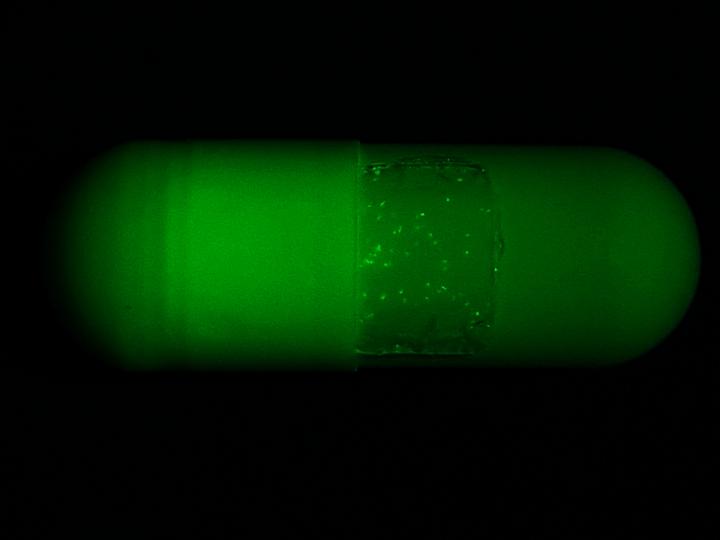 Researchers have created a silk film "security tag" to go on the surface of drug capsules. The photo was taken with a green filter for visibility. Source: Purdue University photo/Jung Woo LeemA team of researchers from Purdue University are attempting to protect prescription drugs from counterfeiting using an edible security tag.
To prevent counterfeiting, the Purdue team is using encryption technology originally designed for information and hardware security to give individual prescription drug tablets and capsules their own digital fingerprints through an authentication process called physical unclonable functions (PUFs).
When stimulated, the thin, transparent films composed of silk and fluorescent proteins that are fused together genetically and built into the medication will render different reactions. When exposed to LED light sources, the fluorescent proteins are activated and produce unique and random patterns. Digital bits extracted from images of the patterns would serve to create the unique security key that patients and pharmacists could use to confirm a medication's authenticity.
Because each reaction results in a different pattern, they would be tough for counterfeiters and even the pharmaceutical manufacturers to duplicate, according to the Purdue team.
The edible security tag, which is safe for consumption, could potentially protect prescription medications where packaging and other branding efforts such as manufacturing pills and tablets in distinctive colors, shapes and sizes have failed. Despite these previous efforts, pharmaceutical counterfeiting has turned into a lucrative industry, accounting for roughly 10% of global pharmaceutical commerce, according to reports from the U.S. Drug Enforcement Administration. Likewise, counterfeit pharmaceuticals, particularly, counterfeit opioids, have been reportedly responsible for deaths all throughout the U.S.
The research appears in the journal Nature Communications