Software reduces risk in selecting geothermal project sites
S. Himmelstein | March 17, 2022
A geothermal energy developer expects to reduce its risk in selecting locations for geothermal energy projects in northern Belgium with the aid of geological and reservoir modeling software from Emerson. The SKUA-GOCAD modeling software will be applied to improve the safety and reliability of construction and operation while enabling long-term sustainable geothermal energy production.
The software will help HITA more easily identify drilling locations by creating highly realistic models designed for easy interpretation. "A highly accurate and realistic picture of subsurface geology is critical for the safe development of sustainable energy sources," said Stijn Bos, chief operating officer and senior project geologist at HITA. "Emerson technologies use seismic, geologic and other data to generate detailed models that can determine the best location for geothermal plants."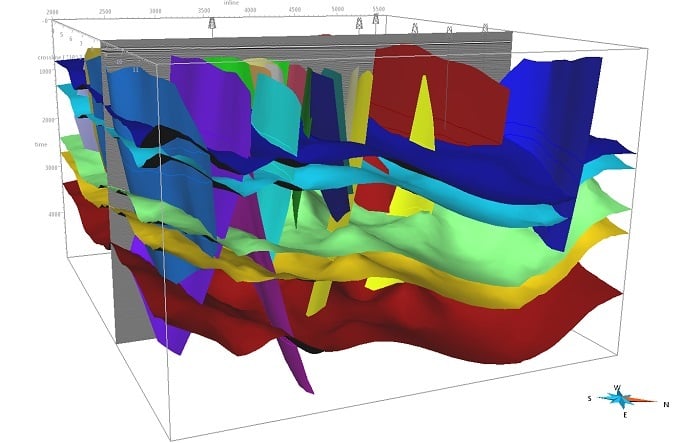 Building a 3D structural model in SKUA-GOCAD contributes to the safe and reliable operation of geothermal plants. Source: Emerson Electric Co.
HITA has already applied the software to integrate all existing data sets, use velocity data to convert data sets from time to depth domain, and generate structural models. The models provided the base for a thorough understanding of the target reservoir's subsurface. For a project in the city of Turnhout, a detailed 3D structural model was created of the target reservoir in the lower Carboniferous limestones. HITA is currently working on three locations for which 3D seismic acquisition was performed.
While the SKUA-GOCAD modeling software has traditionally been used in the oil and gas sector, it is also applicable to geothermal energy and carbon capture and storage projects, according to Emerson. Well, seismic, micro-seismic, production, geology and trend data are all integrated in a modeling system that exponentially increases stratigraphic and reservoir model accuracy, and provides optimal reservoir grids for the computation of flow.