Cold climate heat pump working to accelerate environmental stability
Amy J. Born | February 19, 2022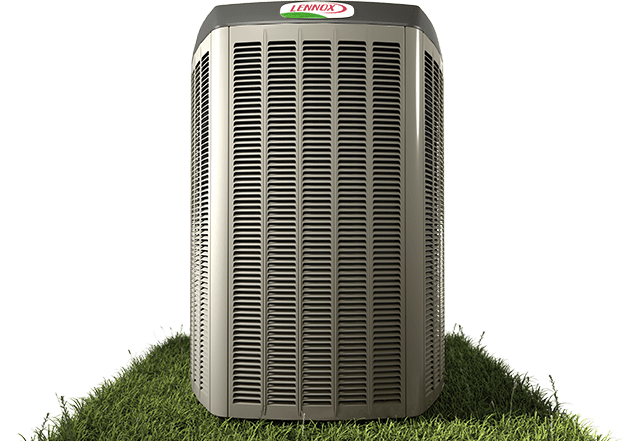 SL25XPV heat pump. Credit: Lennox
Lennox unveiled the Dave Lennox Signature Collection model SL25XPV heat pump at the annual International Builders' Show (IBS) in Orlando. This latest model is the most precise and efficient heat pump on the market, according to the company. With core technologies including Precise Comfort and TruHeat Performance, it represents a significant step in Lennox's environmental sustainability mission based on product innovation, incorporating advances in energy usage and reducing emissions.
The SL25XPV allows homes in even the coldest climates to benefit from a heat pump system and up to 58% cost savings per year. The Lennox heat pump can adjust heating and cooling in very small and precise increments for greatest efficiency, while delivering more heat with less energy compared to traditional heat pumps. It has a SEER (Seasonal Energy Efficiency Ratio) up to 24 and an HSPF (Heating Seasonal Performance Factor) of 11.8, making it one of the most efficient ENERGY STAR certified products for reducing greenhouse gas emissions.
"In the past two years, homeowners have prioritized indoor air quality and their home comfort more than ever before. With the SL25XPV heat pump, homeowners can rely on a rich warmth similar to that of a gas furnace, while maintaining the highest possible efficiency for the lowest environmental impact," said Tim Brizendine, director of product management at Lennox Industries.
A responsibility to reduce carbon footprints
With an efficiency rating up to 24 SEER and 11.8 HSPF, the SL25XPV heat pump is nationally recognized as one of the most efficient Energy Star certified products for reducing greenhouse gas emissions and meeting rigorous energy efficiency levels set by the U.S. Environmental Protection Agency.
The Quantum Coil technology is a proprietary aluminum alloy introduced by Lennox and incorporated into this heat pump to withstand harsh environments, maintain reliability and retain longer lasting sustainability by preserving system performance and reducing its environmental footprint.
Lennox International Inc. (LII) established a formal commitment to curbing the impact of climate change and preserving the environment, which includes the company's commitment to the Science Based Targets initiative (SBTi). LII's approved targets for greenhouse gas emissions reduction include reducing Scope 1 and 2 greenhouse gas emissions by 37.5% through efficiency and operational improvement, and reducing Scope 3 emissions by 30% per product sold.
"The vast majority of our industry's Scope 3 greenhouse gas emissions come from consumers' use of HVAC products," said Betty Ungerman, VP, deputy general counsel/chief ESG, ethics and compliance officer at LII. "The approval of our science-based targets demonstrates LII's bold commitment to reduce global warming. We will meet the challenge of a more sustainable future by furthering our heritage of bringing the most efficient and innovative products to market to reduce our end-users' carbon footprint."