Video: Repurposing offshore oil and gas rigs
Marie Donlon | February 08, 2022
Decommissioning offshore oil and gas rigs — wherein offshore oil and gas activities cease operation due to safety concerns or obsolescence, among other reasons — is both costly and time consuming.
Typically, oil and gas decommissioning entails several steps, including:
Plugging all of the wells associated with the platform and severing the well casings 15 ft below the mudline;
Cleaning and dismantling all production and pipeline risers associated with the platform;
Dismantling the platform from its foundation by severing all components at least 15 ft below the mudline;
Disposing of the platform components in a scrap yard or fabrication yard, or placing the platform components at an artificial reef site;
Conducting site clearance verification at the platform, ensuring that no debris or potential obstructions remain.
With so many different steps involved, costs to consider and the increasing number of oil and gas platforms reaching their end-of-life, creative solutions for reusing existing offshore oil and gas structures have been quick to emerge. This article explores a handful of the solutions under consideration for repurposing offshore oil and gas platforms. Follow along with Engineering360 as it explores some possible alternative uses for these inactive structures.
Artificial reefs
Turning oil and gas offshore platforms into artificial reefs is one such creative idea floated to those preparing to decommission offshore structures. Specifically, Rigs-to-Reefs is a program that involves the donation of decommissioned oil and gas platforms to serve as artificial reefs that attract organisms (barnacles and bivalves for instance). The reuse of these structures reportedly provides benefits for the marine environment by enhancing fish habitats.
Some methods for transforming an existing structure into an artificial reef include toppling the platform in place, removing only part of the platform or severing the structure from the sea floor and towing it to an approved location.
Hotels
Decommissioned oil and gas platforms could, in the future, serve as a recreational destination of sorts for tourists. Saudi Arabia's sovereign wealth fund, the Public Investment Fund (PIF), has announced plans for the development of a resort destination inspired by oil and gas platforms.
The resort, appropriately dubbed The Rig, will reportedly feature three hotels, 800 rooms and 11 restaurants spread across a 1.6 million sq ft offshore platform in the Persian Gulf. In addition to accommodations, the resort is also expected to feature water slides, a roller coaster, a Ferris wheel, bungee jumping, scuba diving, a performance venue and more.
The resort will be accessible by boat, yacht, cruise ship or helicopter, according to the PIF.
More information about The Rig is featured in the accompanying promotional video that appears courtesy of the PIF.
Fish farming
Dutch company Jack-Up Barge and Norwegian firm Roxel Aqua are joining forces to transform aging oil and gas rigs into feeding and harvesting facilities for the salmon farming industry.
The proposed design, dubbed the Octopus, will feature a modified jack-up rig — an oil and gas barge with long support legs that can be lowered and raised — surrounded by 12 to 14 submersible salmon cages.
To transform the oil and gas platform, the companies propose removing the drilling module and installing a fish process module, a lice removal unit and sub surface cages, which can be lowered via winches when storms are forecast.
The repurposed oil and gas rigs are being proposed for locations off the coasts of Scotland, Norway and Australia.
For more on the proposal, watch the accompanying video that appears courtesy of Roxel Aqua.
A launchpad
Two decommissioned oil drilling rigs in the Gulf of Mexico may soon be converted into offshore launchpads for rockets destined for Earth's orbit, the moon and even Mars.
According to reports, the two 240 ft x 255 ft submersible oil rigs located in Brownsville, Texas, will be converted into launchpads by SpaceX, the American aerospace manufacturer and space transportation services company founded by Elon Musk.
Formerly dubbed ENSCO 8500 and ENSCO 8501, the oil rigs have been renamed Phobos and Deimos — in a nod to the two moons of Mars — potentially hinting at their intended future application as rocket launchpads.
Future homes
A Paris design firm has released a concept that would turn decommissioned offshore oil rigs into residences of the future, according to reports.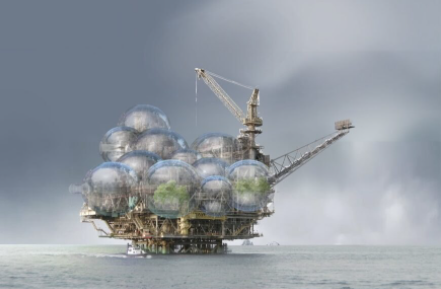 Source: XTU Architect
The concept design, which is part of XTU Architect's project X_Lands, includes outfitting the decommissioned platforms in so-called housing units in a bubble-like design.
Covered in plants, the floating platforms would be entirely self-sustained, generating their own clean energy via solar and wind power. Additionally, space on the platform would be dedicated to growing food for those who live there.
The X-Lands project aims to envision a future after oil when the only reminders of the industry are in the abandoned oil platforms located all over the world.
Carbon dioxide pumping and storage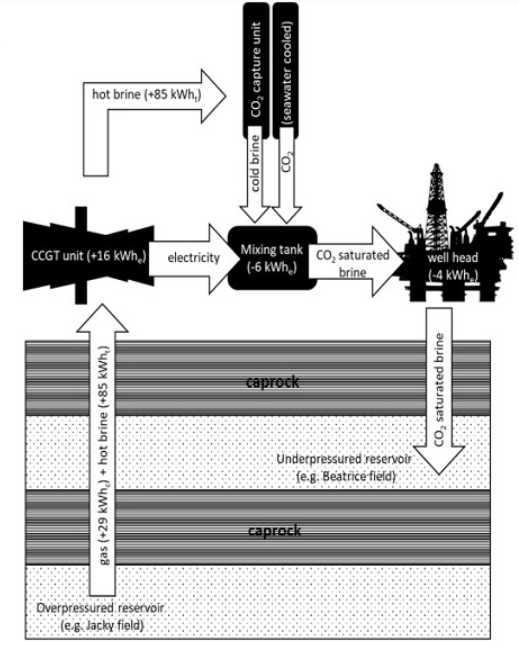 Source: University of Edinburgh
University of Edinburgh researchers have determined that offshore oil and gas platforms could be repurposed as pumping stations for sub-seabed carbon dioxide storage sites.
Researchers applied a computer model to data for a depleted hydrocarbon field located off the northeast coast of Scotland and discovered that retrofitting the platform as a pumping station would be 10 times cheaper than the cost of decommissioning. According to the research team, natural gas and thermal energy extracted from the associated saline formation could potentially be exploited for fuel or electricity production, and mixing saltwater from the oil field with the CO2 produced by burning the gas encourages its injection deep underground for permanent safe storage into the porous rock formation.
These are just a few examples of how creative solutions are being devised to prepare offshore oil and gas platforms, nearing their end of life, for some other future use
Check back with Engineering360 for more on this and other oil and gas technology topics.