Video: Robotic spine system optimizes surgical implant selection
S. Himmelstein | January 27, 2022
Surgeons currently rely on limited information from diagnostic imaging in planning cervical disc implant procedures to guide their choice. Imaging data does not provide the biomechanical data needed to optimize the type of prosthesis selected, which may result in implant failure. Now a surgical solution in the form of a robotic replica of the human spine can shed light on the effects of surgical interventions prior to an operation.
The 3D-printed spine replica modified by researchers from Florida Atlantic University, University of Virginia and Boca Raton Regional Hospital (Florida) to include an artificial disc implant and equipped with a soft magnetic sensor array. The patient-specific robotic spine model, based on a computed tomography scan of the human spine, is articulated with a robotic arm as the sensor array generates data on intervertebral loads. Machine learning algorithms classify spine posture in terms of the amplitude and the locations of applied external loads applied.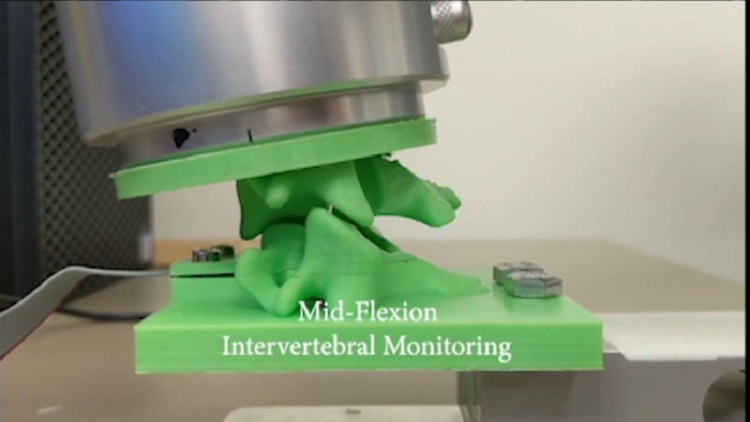 A 3D-printed spine replica includes an artificial disc implant and a soft magnetic sensor array. Source: Florida Atlantic University
The robotic replica demonstrated great accuracy in classifying mid-extension, extension, center, mid-flexion and flexion spinal postures, generating data that could highlight potential problems with a given implant. The results reported in Sensors indicate that the integration of the soft magnetic sensor array within the artificial disc-bearing, robotically actuated spine replica offers potential to generate physiologically relevant data before invasive surgeries and to preoperatively assess the suitability of a particular intervention for specific patients.
,