U.S. launch of Medtronic's Mazor X Stealth edition for robotic-assisted spine surgery
Engineering360 News Desk | February 04, 2019
The Mazor X Stealth Edition from Medtronic has been used to perform spine surgery in the U.S. for the first time. The system co-developed by the company and the recently acquired Mazor Robotics of Israel provides planning, workflow, procedural execution and confirmation capabilities to accurately place instruments and tools during spinal surgeries.
Medtronic's Stealth software combines with Mazor's existing robotic technology to afford computerized surgical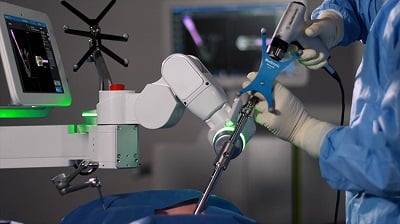 Source: Medtronicsplanning and navigation. Surgical precision is improved by use of 3D cameras, guidance markers and a robotic arm, all of which monitor the positioning of instruments in relation to the spine.
The Mazor X robotic guidance system is indicated for precise positioning of surgical instruments or spinal implants during general spine surgery. It may be used in open, minimally invasive, or percutaneous procedures. The robotic guidance arm makes it possible to achieve simultaneous complex movements and create multiple arm position options for each desired trajectory. Analytical software for 3D imaging generates a customized 3D preoperative plan on a workstation and supports planning difficult pedicle screw trajectories with 3D implants customized for a selected system.
Enabling technologies such as intraoperative-imaging and surgical navigation are enhancing the precision and outcomes of spinal surgery. Another such robotic system under development at Nottingham Trent University, U.K., promises greater accuracy in surgeries to correct scoliosis and other spinal conditions. Scoliobot uses two universal robot UR5 cobot arms to drill holes in vertebrae in which pedicle screws are attached to deformity rod reducers designed to realign the spine.