DOE funds wave energy R&D
S. Himmelstein | January 26, 2022
The Water Power Technologies Office of the U.S. Department of Energy (DOE) has allocated $25 million in funding to support increased research, development and demonstration of technologies that harness wave power to create electricity.
The selected projects will conduct open-water testing at the PacWave South test site off the Oregon coast. This is the first accredited, grid-connected, pre-permitted, open-water wave energy test facility in the U.S.
One research focus will be testing wave energy converter designs for use in geographically remote areas or on small, local energy grids. CalWave Power Technologies Inc. of Oakland, California, has been awarded $7,500,000 to test a 50 kW wave energy conversion device. Columbia Power Technologies Inc. of Charlottesville, Virginia, will receive $4,182,275 to advance its SeaRAY k2 autonomous offshore power system to commercial readiness.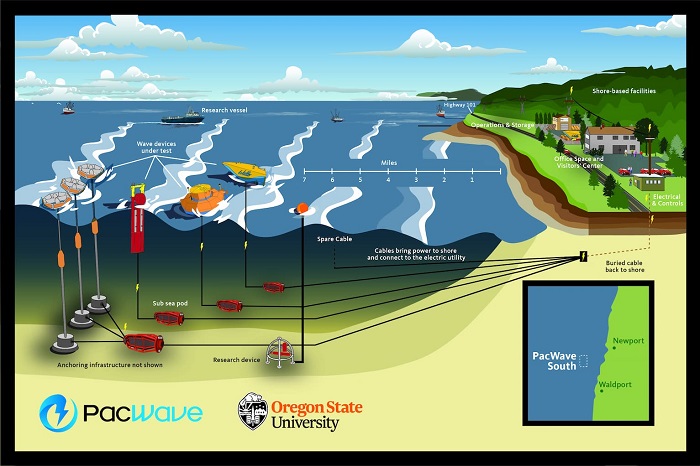 The PacWave South test site is the first accredited, grid-connected, pre-permitted, open-water wave energy test facility in the U.S. Source: Oregon State University
Two projects are geared toward development of wave energy converter designs that can be either connected to or disconnected from the electricity grid. Dehlsen Associates LLC of Santa Barbara, California, will use its $1,800,000 award to design a point absorber wave energy converter that absorbs energy using a floating buoy tethered to a fixed reference point. Oscilla Power Inc. of Seattle, Washington, has been granted $1,800,000 to implement performance improvements to its Triton wave energy converter.
Research will also advance environmental monitoring technologies, instrumentation systems that operators use to control wave energy converters, and other technologies. With $379,329 in funding, Integral Consulting of Seattle, Washington, will develop and demonstrate an environmental data integration assessment tool to support effective environmental monitoring and adaptive management frameworks for marine energy projects. Littoral Power Systems of New Bedford, Massachusetts, plans to combine machine learning and predictive modeling with a novel lightweight multi-axis point absorber system with $3,976,401 in DOE funds.
Open water testing of an electromagnetic resonant power take-off generator will be conducted by Portland State University with an award of $4,507,330, while a University of Washington team will use its $1,299,689 in funding to create a library of acoustic events that will help developers and regulators address concerns about sound from wave energy converters.