Hyundai plans US micro nuclear reactor facility
Cari Cooney | January 15, 2022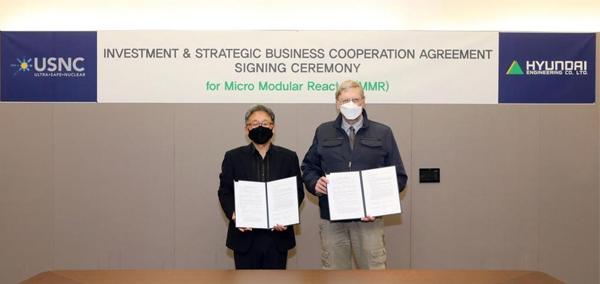 Source: Hyundai Engineering
Engineering affiliate of Hyundai Motor Group, Hyundai Engineering has announced a plan to build micro modular nuclear reactors for a developer in the United States. The company plans to invest around $30 million in Ultra Safe Nuclear Corporation, giving the South Korean business the exclusive rights to the engineering, procurement and creation for all MMR projects of the Seattle-based company.
The MMR energy system consists of a high-temperature gas-cooled reactor, which is considered safer, cleaner and more cost-effective. It distributes carbon-free power with minimal upkeep and produces hydrogen.
Micro reactors and green energy
Smaller reactors are becoming more attractive in clean energy initiatives to achieve carbon neutrality. They offer economic efficiency and compared to large scale nuclear power plants, are considerably safer. During this development, Hyundai Engineering is creating MMR green hydrogen production technology in South Korea. An MMR demonstration in a Canadian plant paved the way for the company to make plans for executing a high-temperature gas reactor with a 100 MWe-class large-capacity electrolysis hydrogen production facility.