Hydrogen Fuel Cell Vehicles Are the Future, Hyundai Says
Engineering360 News Desk | July 01, 2015
Hyundai Motor Co. says that hydrogen fuel cell vehicles will be the future of eco-friendly cars, more so than all-electric vehicles (EV).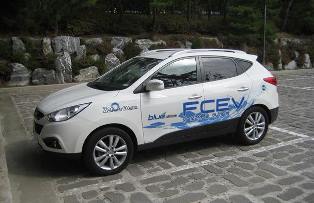 The Hyundai Tucson Fuel Cell SUV has fallen short of sales estimates, but is expected to grow over time as prices for the vehicle decline and fueling stations grow. Source: HyundaiIn 2014, Hyundai sold 273 of its Tucson Fuel Cell SUV, short of its goal of 1,000 sales. Most of those were bought in Europe and California. The vehicles retail for $76,000 each.
In the next 10 years, Hyundai says it plans to invest another $10 billion in hybrid cars, electric battery vehicle and hydrogen fuel cell models.
According to Kim Sae hoon, general manager at Hyundai's fuel cell engineering design team, fuel cell vehicles offer a better opportunity for sales growth because there is less market competition compared to EV.
He says that hydrogen fuel cell vehicles have greater design flexibility because they can be scaled for a range of sizes.
Hydrogen fuels cells are already being used in trucks and buses, according to Devin Lindsay, IHS Automotive's senior analyst. That is an advantage because all-electric engines do not perform as well in larger vehicles, which require bigger batteries that need more charging, Lindsay says.
Toyota has also released a fuel cell car—its Mirai which debuted last December for $57,500. Honda has delayed the release of its fuel cell car, the FCX Clarity Fuel Cell Electric Vehicle.
Hydrogen fuel cell vehicles emit only water vapor as exhaust, can travel up to 300 miles on a tank of fuel and refuel in five minutes. Hydrogen fuel is created by the steam-methane reformation method—a process by which high-temperature steam creates a reaction with methane gas in the presence of a catalyst to produce hydrogen, carbon monoxide and a small amount of carbon dioxide. The impurities of the product are removed through "pressure-swing adsorption," which creates essentially pure hydrogen.