Electromagnetic stirring solution improves steel quality, productivity
Engineering360 News Desk | January 07, 2022
A Tundish electromagnetic stirring (EMS) solution devised by ABB enables steelmakers to overcome the limited ability of the Tundish vessel in controlling the flow of molten metal, and therefore steel quality and temperature.
The Tundish is an intermediate vessel between the steel teeming ladle and the mold in continuous casting. Located above the mold, the Tundish feeds the received steel evenly at a designed throughput rate and temperature without causing contamination by inclusions and serves as a buffer vessel between the batch ladle process and continuous casting.
Placed on the outside of the Tundish, the Tundish EMS solution uses non-contact EMS technology to generate an electromagnetic field that creates a stirring effect in the bath melt. This continuous stirring significantly increases mixing zone volume for virtually the entire Tundish, with higher flow speeds, elimination of dead zones and homogenization of temperature.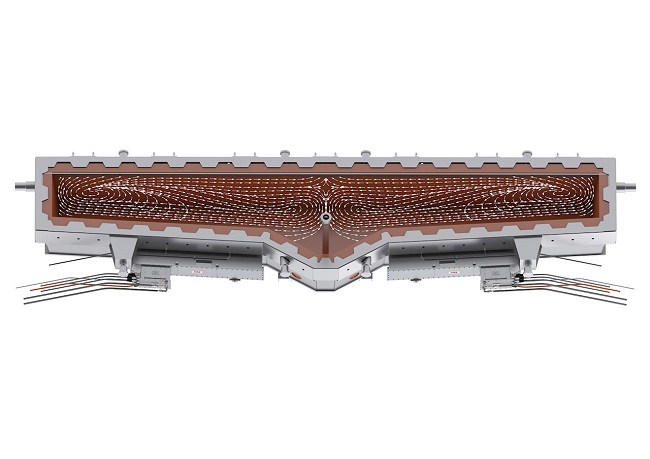 The Tundish EMS solution will enable steelmakers to better control molten metal flow. Source: ABB
Adoption of this EMS technology will be particularly important for steelmakers with multiple casting strands coming from one tundish. It will mean greater removal of inclusions, resulting in smoother, cleaner steel and reductions in nozzle clogging.
By creating a stirring flow throughout the entire tundish melt bath, Tundish EMS delivers rapid homogenization of temperature and chemical composition that results in better quality steel, more uniform and repeatable casting conditions across multiple strands and overall improved quality, productivity and profitability in billet and bloom casting and metal powder production.
Tundish EMS offers several new functionalities including flexibility in stirring force and direction and the ability to stir and control the flow field in the whole melt volume of the tundish. This means that steelmakers no longer have to rely solely on the limited ability of tundish furnishings for control of molten metal flow, where often significant dead zones lead to temperature variations and where smaller inclusions or inclusion clusters cannot be removed. A variety of Tundish EMS installation configurations are available for most tundish types.