Compact AC multidrive reduces cabinet sizes and costs
S. Himmelstein | December 30, 2021
A new AC multidrive system has been designed by Inovance Technology Europe to meet the needs of European original equipment manufacturers for flexible, scalable multidrives in a compact footprint.
The modular MD800 system can supply up to eight drives from one rack with a single rectifier, sharing energy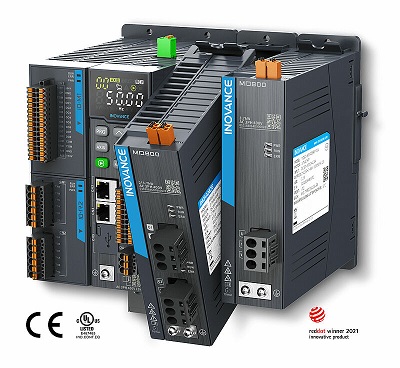 Source: Inovance Technology Europe through a common DC bus. The company claims that the footprint is up to 50% smaller than traditional single-drive modules, and that the system can cut installation and commissioning times by up to two-thirds and halve assembly and mounting plate preparation times.
The dual rating of each drive module allows 150% overloads for demanding high-torque applications, or 110% overloads for normal-duty fan and pump applications. The equipment is also designed to operate in the harshest of industrial environments with 3C3 and 3S2 conformal coating, an operating temperature range of –20° C to +60° C, an operating altitude of up to 4,000 m and a separate cooling channel for the heatsink.