Putting ocean plastic to good use: Powering cleanup vessels
S. Himmelstein | December 15, 2021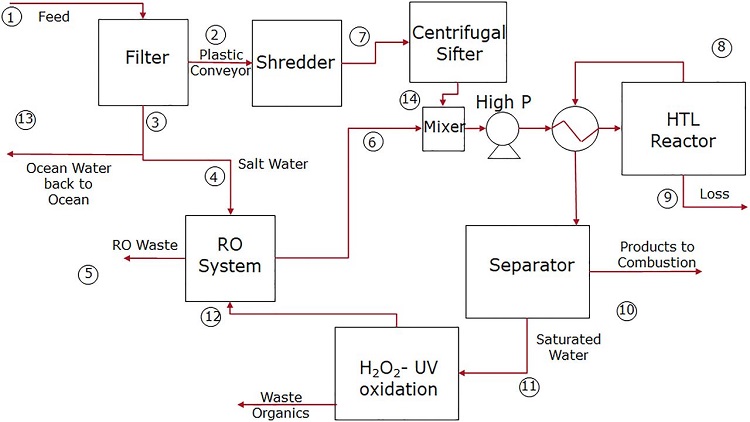 Conceptual design of a shipboard hydrothermal liquefaction process, designed to fit within a standard 20-ft shipping container, for converting ocean-borne plastics into usable fuel. Source: Michael T. Timko et al.
Efforts are underway worldwide to stem the tide of millions of tons of plastic entering and despoiling marine ecosystems. Ships tasked in this effort retrieve and store plastic for eventual transport to port in time- and fossil fuel-intensive cleanup operations. A more sustainable alternative advanced by Worcester Polytechnic Institute, Woods Hole Oceanographic Institution and Harvard University researchers is to convert the collected plastic to ship fuel.
Transformation of the retrieved waste into oil via hydrothermal liquefaction eliminates the need for land disposal of some of the plastic and can markedly reduce shipboard fossil fuel use and attendant emissions. The process heats plastic to 300º C to 550º C at pressures 250 to 300 times that of sea-level conditions. Oil yields are typically greater than 90% even in the absence of catalysts and, unlike pyrolysis, yields of solid by-products requiring storage or additional processing are less than 5%.
The research indicates that large booms placed in the Great Pacific Garbage Patch could gather enough plastic so that a single ship equipped with a hydrothermal liquefaction converter could process 11,500 tons each year and contribute to self-powered cleanups.
The research is published in Proceedings of the National Academy of Sciences.