Help NASA bring nuclear power to the Moon
S. Himmelstein | November 22, 2021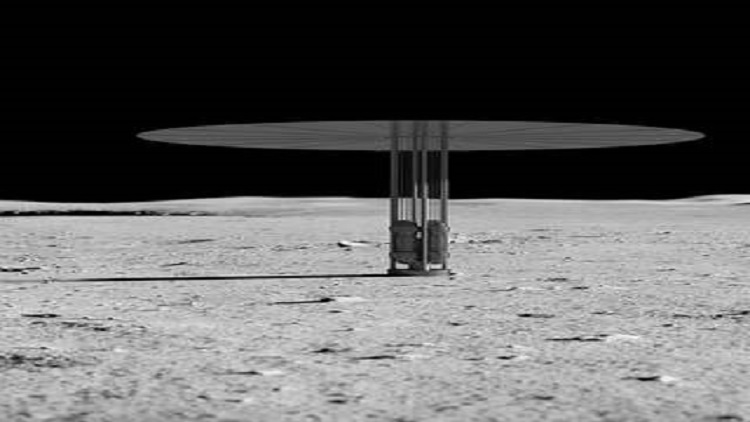 Illustration of a conceptual fission surface power system on the Moon. Source: NASA
Nuclear power is being considered by NASA for lunar and Mars missions because, unlike alternatives such as solar power, it can provide constant energy, a necessity for human life-support systems, recharging rovers and mining for resources. Solar power systems would also require the use of energy storage devices like batteries or fuel cells, adding unwanted mass to the system.
The agency, along with partners Battelle Energy Alliance and the U.S. Idaho National Laboratory (INL), are seeking proposals from nuclear and space industry leaders to develop innovative technologies for a fission surface power system for such extraterrestrial service.
According to the request for proposal, design requirements must be specified for a fission surface power system consisting of a uranium-fueled reactor core, a power conversion system, a thermal management system and a power management and distribution system capable of providing no less than 40 kW of continuous electric power at the user interface at end of life. The self-contained system must incorporate passive safety design features to the maximum extent practical. Components required to meet the system requirements must be included in the design and fit within the mass requirements. The nuclear power supply cannot rely on any external power or robotic support nor astronaut involvement for system startup, shutdown, operation or maintenance.
"The feedback and enthusiasm we continue to see for space nuclear power systems has been very exciting, and understandably so. Providing a reliable, high-power system on the Moon is a vital next step in human space exploration, and achieving it is within our grasp." said Sebastian Corbisiero, the Fission Surface Power Project lead at INL.
Proposals are due by Feb. 19, 2022.