New AVANT series explosion-proof pumps from Tsurumi
Diana Aoun | October 28, 2020
Tsurumi pumps has revealed the latest addition to its suite of pumping technology this month with its new line of explosion-proof, self-cooling submersible pumps, suitable for a range of wastewater applications.
The AVANT MQpumps showcase a range of features. Not only are they FM approved explosion-proof pumps (required for certain wastewater applications to ensure the highest level of safety), but they use IE3 premium efficiency motors, contain a patented closed-circuit cooling mechanism, and can handle continuous duty cycles while simultaneously delivering high performance.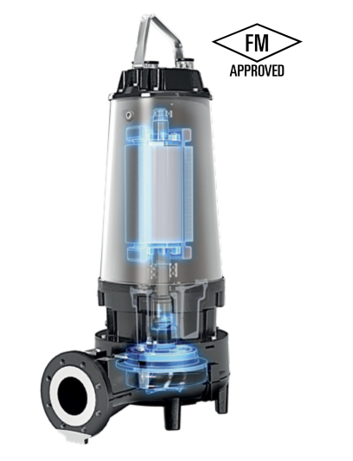 Source: Tsurumi Pumps
Tsurumi has also installed the mechanical seals in a closed oil chamber that is kept completely separate from the cooling system. Seals can be changed (even if the pump is installed in a vertical position), without having to drain the system while also ensuring no contamination from wastewater. Water-detection sensors, in the motor cover as well as the chamber on top of the electric motor and seal well, ensure full protection of the motor. The pumps have been designed with an anti-clogging system (ACS) that prevents impeller blockages — one of the biggest challenges faced by wastewater system operators — even in most testing conditions.
Equally impressive is the selection available to customers who can order a tailor-made pump to suit the specific conditions of their application. The AVANT MQ series comes in a selection of five different types of impellers (open channel, chopper, vortex, grinder and high head) and offer a range of specifications including discharge diameters of 2 in to 16 in and 4 to 215 HP motor output.
The AVANT MQ series also comes with the option of a Mobil-Tech coating material, different to the conventional ceramic coating typically used for pumps in heavy duty operation. The Mobil-Tech coating is a high-strength material that is applied to the iron to improve the pump's durability by preventing serious wear due to abrasion or cavitation on impellers, suction flanges and volutes in heavy duty operation.