GTherm announces NetZero low-cost energy solution for crypto data centers
Amy J. Born | September 17, 2021
The amount of electricity needed for the mining of cryptocurrency has sparked creative low-cost energy solutions for computers and other machinery. GTherm has introduced its GTherm Comprehensive Energy System (GTSystem) as just such a solution for data centers serving the bitcoin and cryptocurrency markets.
The electrical transformers, grid permitting and switches, as well as other materials and legacy systems needed to operate this type of project, can take years to acquire due to local governments highly regulating access to power grids. Houston-based GTherm's system is off grid, so grid-permitting and connection delays are eliminated.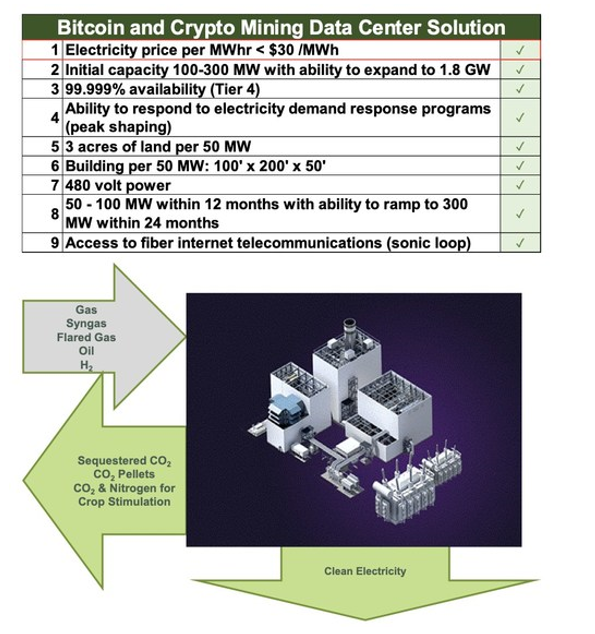 The GTSystem uses both CO2 sequestration and CO2 absorption to create NetZero baseload power. This nonstop system provides viable economics for Bitcoin and Crypto Currency data centers. Source: GTherm
The GTSystem uses carbon capture and carbon sequestration. Data centers can achieve sustained, NetZero low-cost power by implementing the system. The patented modular technology generates power that achieves 99.999% reliability while minimizing the risk of generation failure due to non predictable events such as a polar vortex.
Clean baseboard electricity is generated on an oil and gas reservoir and CO2 is sequestered from power generation into the oil reservoir as oil and gas are extracted. This contributes to enhanced oil recovery (EOR). Since the gas is used for power generation, there is no flaring and the oil extraction does not utilize fracking. The fuel for power generation comes from low-cost hydrocarbons, resulting in the production of NetZero electricity. The system is priced appropriately for the bitcoin and cryptocurrency transaction processing markets.
Low-cost electricity is achieved with CO2 sequestration credits, CO2 absorption credits, carbon credits, the elimination of electric distribution costs, no line losses, no backup generators, geothermal cooling and no harmonic distortion. The extracted hydrocarbons can also be used to generate electricity. The reservoir project generates the nonstop, reliable low-cost electricity for the data centers at a competitive cost and, therefore, becomes an independent power producer (IPP).
A secondary use of the reservoir's surface land is also possible with the GTSystem. Some of the separated CO2 and nitrogen from the electricity generation can be used to stimulate crop growth in greenhouses.
Some of the clean electricity can be used to produce NetZero low-cost bulk hydrogen through electrolysis, with no CO2 generated. The hydrogen can then be used to replace natural gas and gasoline/diesel fuel.