The new disruptive pressurizing pump system by DAB — The Esybox Max
Diana Aoun | September 29, 2021
DAB Water Technology has revolutionized integrated pumping systems with its award-winning Esybox Max for water pressurization in commercial building services. This innovative new modular system has been designed with not only enhanced efficiency and performance in mind but with state-of-the-art smarts and easy installation for trouble-free operation.
The Esybox Max system comprises modular elements that enable different configurations including single, double, triple, or quadruple systems. Configurations are designed to meet the needs of medium or large condominiums as well as high-rise buildings. Pumping units come with an innovative support base — the "Esydock" – that allows installers to simply "plug" the pumps into the pipework system. Integrated wireless communication between the pumps makes it possible to assemble, install and set-up the unit directly on site even by one person.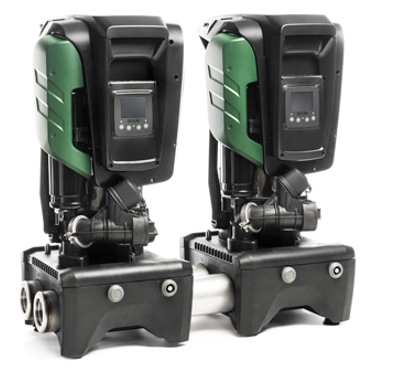 Source: DAB Pumps
Each Esybox Max unit consists of the hydraulic connection base and the pumping unit which comprises an electronic vertical multi-impeller pump, display, Wi-Fi module, pressure sensors, non-return valve on delivery and an expansion tank. The variable frequency drive allows pressure and flow to be maintained according to system demand while the water-cooled permanent magnet motor delivers enhanced efficiency, energy savings and quiet operation.
All Esybox Max units are compatible with DAB's DConnect service which enables web-based remote control for any system. The DConnect service stores system performance data and enables remote monitoring and control from anywhere using a smartphone to connect directly with the pump via a simple interface. DConnect also automatically detects language, time and unit of measurement at the site of installation, further streamlining system setup.
Esybox Max systems come with an optional ESY I/O (input/output) electronic expansion module which allows Esybox Max to interface with the external I/O devices such as float/pressure switches, remote alarms, and with building management systems.
A single Esybox Max pump unit can deliver a maximum flow rate of 17.4 m3/h (76 U.S. gpm) and a head of 96 m (315 ft) for liquid temperatures of up to 50° C (122° F).