Study weighs severe weather impacts on solar farms
S. Himmelstein | September 13, 2021
A machine learning approach was applied to maintenance, performance and weather data for 800 photovoltaic farms in the U.S. to examine the impacts of severe weather on solar power system reliability and energy generation. U.S. Sandia National Laboratories (SNL) researchers sought to identify factors responsible for poor performance so as to boost the resiliency of these systems to extreme weather events.
The open access analytical method revealed that snowstorms imposed the strongest effect on electricity production, followed by hurricanes and a general group of other storms. Snowstorm variables governing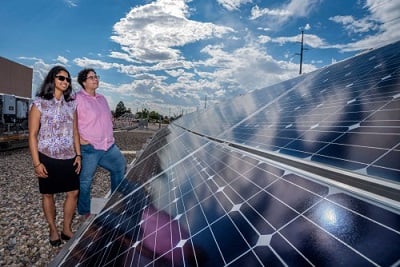 SNL researchers used machine learning to examine extreme weather impacts on solar farm performance. Source: Randy Montoya/SNLpower system performance were low sunlight levels at the location due to cloud cover and the amount of snow, followed by several geographical features of the farm.
Older solar farms were affected the most by severe weather, likely due to longer-term exposure to the element and associated component degradation relative to newer plants. For hurricanes, the amount of rainfall and the timing of the nearest hurricane had the next highest effect on production after age. Low wind speeds were also identified as significant, since solar farms are preemptively shut down in the wake of predicted high wind speeds.
The research is published in Applied Energy.