Pivot Point Inc. expands manufacturing facilities
Engineering360 News Desk | September 10, 2021
Pivot Point Inc., a manufacturer of non-threaded fastener solutions, has broken ground on a new 30,000 ft2 foot expansion to the manufacturing space at their Factory #2 in Hustisford, Wisconsin. Combined with the adjacent Factory #1, total facilities will increase to nearly 100,000 ft2.
Bayland Buildings Inc. of Green Bay, Wisconsin, was selected as the design/build general contractor and has worked with Pivot Point for several months on design, engineering and layout. Bayland will erect a steel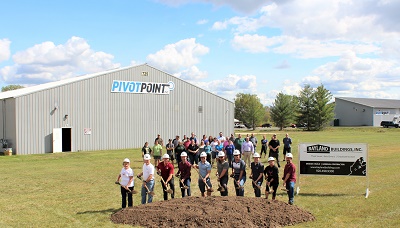 Source: Pivot Point Inc.frame and beam building that allows for a greater clear-span of the interior space, thus optimizing work and traffic flow for manufacturing.
Says owner Sol Leitzke: "We've invested heavily in equipment, especially automation, so that we can have the best value proposition in quality, pricing and lead times. This has resulted in steady growth, and we're practically bursting at the seams. This factory expansion will allow us to continue to add equipment and continue to grow without constraint."
Pivot Point's products include clevis pins, cotter pins, quick release pins and devices, locking pins and wire-rope lanyards, as well as several unique and highly popular proprietary items, including the SLIC pin: a pin and cotter all in one.
Pivot Point held a groundbreaking ceremony on Thursday, September 9 to commemorate the expansion of the company's facilities. The expansion is expected to be completed in summer of 2022.