WAM's VW butterfly valve for efficient and reliable flow interception
Diana Aoun | September 06, 2021
WAM Groups VW butterfly valves feature a unique design and materials of construction that provide an efficient and cost-effective solution for a wide range of applications. The VW is suitable in bulk solids processing plants for the interception of pneumatically conveyed, or gravity-fed dry powders or granules. The VW butterfly valve is particularly suitable in both dilute and dense phase applications for pneumatic conveying operations, for operating pressures up to 2.5 bar (36 PSI).
VW butterfly valves feature a one-piece die-cast aluminum body, a mild-steel or stainless-steel valve disc including shaft journals, and an elastomer gasket. Various actuator compatibility is available including WAM's "CM" manual lever, the pneumatic rotary actuator (CPU), and gear motor actuator (AE). WAM offers a variety of configurations not only through the interchangeability of WAM actuators, but interchangeability of drive shafts (to standard: DIN 5482), as well as the option of a universal connection to different flange sizes.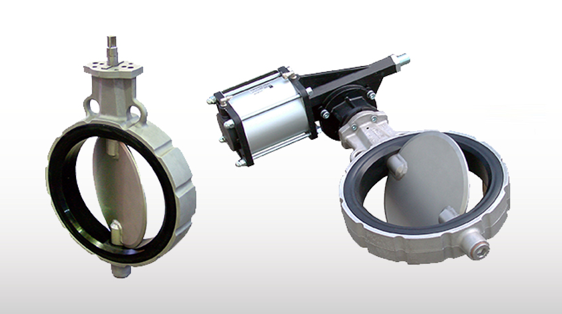 Source: WAM Group
Additional features of the VW butterfly valve include superior abrasion-resistance, easy maintenance, replaceable gaskets, and interchangeable discs. The valve is currently available in DIN 250 (10 inch) with further sizes under development. In addition, valve have undergone leak testing in accordance with EN 12 266-1 and EN 12 266-2. The valves have an operating temperature range of -20° C to 90° C (-4° F to 194° F), and maximum differential and operating pressures of 2.5 bar (36.3 PSI).
The VW butterfly valve is suitable for a wide range of applications including dry-mix processing, plastics processing, glass processing, foundries, and pneumatic conveying plants.