The new all-plastic Butterfly Valve 565 — Challenging metal valves in every aspect
Diana Aoun | August 09, 2021
GF Piping Systems recently revealed the latest addition to its valve portfolio, the new all-plastic Butterfly Valve 565. The 565 is highly reliable, cost-effective, lightweight, and proves its superiority over metal valves in water treatment and a wide range of other applications.
The Butterfly Valve 565 is lightweight but strong, constructed with high-performance plastic components. It has a maximum pressure rating of up to 16 bars (232 psi), and an impressive temperature range of -10° C to 80° C (14° F to 175° F). The Valve 565 is 60% lighter than a comparable metal valve, enabling a single technician to handle installation safely and easily.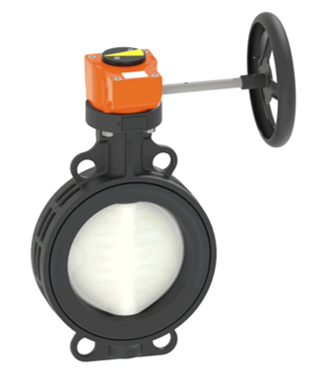 Source: GF Piping Systems
Metal butterfly valves suffer from wear due to corrosion, contamination and extended use. This reduces durability and increases replacement requirements. The resulting downtime leads to delays in operations and additional installation and purchasing costs. Thanks to its superior thermoplastic construction, the Valve 565 has higher resistance against corrosion and abrasion, leading to longer service life, and more effective use of energy and resources during production.
The Butterfly Valve 565 comes in the same installation length as metal solutions facilitating easy retrofitting without the need for any additional pipework or design changes. This reduces planning as well as installation efforts.
With its standard interface, the Butterfly Valve 565 can be upgraded with various modules, such as the GFPS smart, electric or pneumatic actuator. This allows for automation and digitization of the valve system, enabling additional cost-effectiveness and efficiency. The optional LED position feedback allows the current position of the valve to be centrally recorded and checked at any time for both manually operated and automated valves.
GF Piping Solutions offers the Valve 565 in a range of models, options, and approvals to meet the requirements of applications across various industries.