Computational modeling is key to protecting a key US energy industry hub
Amy J. Born | August 24, 2021
The U.S. Naval Research Laboratory has invested $25 million in Louisiana State University (LSU) to create a digital dome protecting Port Fourchon and the Louisiana Offshore Oil Port. The port, the southernmost in the state, is the only offshore deep water port in the U.S. and serves 90% of the Gulf of Mexico's deep water oil and gas activities. More than 1.5 million barrels of crude oil are transported via pipelines through the port each day, with significant truck traffic — 1,200 vehicles in and out — every day as well.
The port is somewhat protected from hurricanes, storm surge and flooding by a long, narrow strip of sandy beach that stretches along its southern perimeter. Still, each year the shoreline recedes 30 to 50 feet closer to the port, where over 250 companies reside. To the south of the port, the beach loses more land each year from sea level rise, erosion and sinking than anywhere in the U.S.
"I would say land loss is one of the greatest threats to the port and southern Louisiana," said Kevin Xu, interim director of LSU Coastal Studies Institute.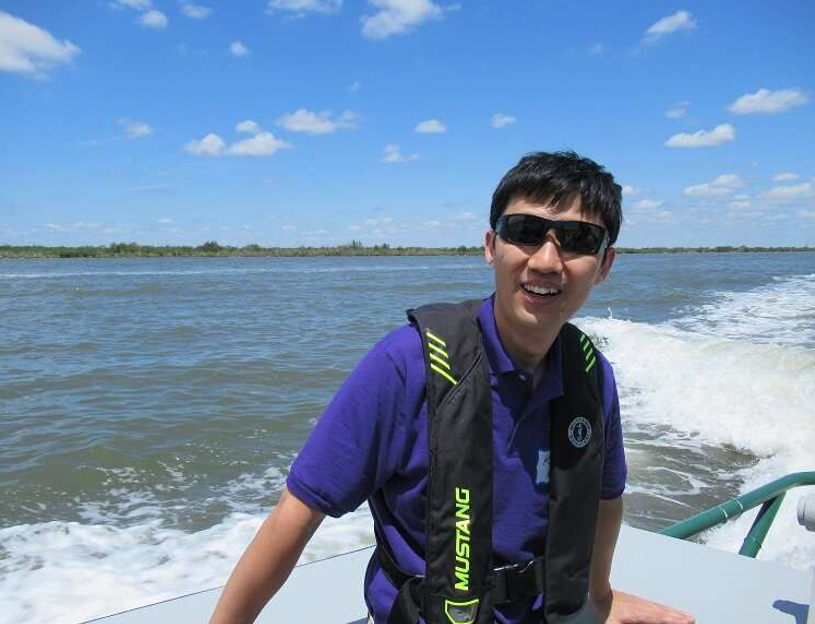 James P. Morgan Distinguished Professor in the Department of Oceanography & Coastal Sciences in the LSU College of the Coast & Environment, is an expert in developing complex computer models that can simulate and forecast how sediment moves and alters the coast, which is critical for managing coastal land loss. Source: Kathe Falls, LSU
The state spent over $70 million to dredge and transport 3.3 million cubic yards of sand by barge and pumped it through a pipeline to reinforce the Caminada Headland, another undeveloped beach that protects Port Fourchon from storms but is severely impacted by erosion. The costly process of dredging sand and sediment from sandbars and the sea floor and transporting it is one of the main strategies used to protect Port Fourchon and the nearby sand dunes, barrier island and marshes.
Sand and sediment is a finite resource, and it can be displaced by hurricanes. Xu is employing his knowledge of computationally modeling sediment transport and is part of a team of researchers who developed a 3D computer model of wind, water level, sediment, waves, and vegetation to simulate the movement of large amounts of sediment when Hurricane Gustav made landfall in 2008, greatly impacting Port Fourchon. The model can be applied to regions around the world impacted by large storms.
"The efforts by LSU are of great importance to anyone involved in determining how best to use dredged sediments in the most beneficial ways for the areas protecting Port Fourchon as well as the southern Louisiana coastline in general," said Chett C. Chiasson, Greater Lafourche Port Commission executive director.
"Understanding the drivers and processes responsible for coastal geomorphic change is central to estimating long-term sediment budgets—an important facet of resiliency in the context of sea-level rise and a changing climate—and coastal restoration," wrote Xu and his co-authors in a recent paper published in Coastal Engineering.
Xu, Samuel J. Bentley, chair in sedimentary geology and LSU vice president of research and economic development, and six other LSU professors have received funding for the study of the dredge pits from where sand is dug and transported to rebuild dunes and beaches, like those protecting Port Fourchon.
"What we found is that those dredge pits can potentially impact water quality. When you dig a big hole, the water is deep and sluggish, the bottom is very turbid, and you can potentially develop low dissolved oxygen conditions, which is called hypoxia," Xu said. Other research shows that this condition is harmful to marine life, much of which is vital to the seafood industry.
Xu and Bentley studied the potential for the dredge pit to impact the oil and gas pipelines as well. "Our study showed that the pit wall doesn't migrate that quickly. We found that 1,000 feet is a very conservative distance for muddy pits. Resource managers could potentially use a shorter distance and be able to dig out more sand, but additional, longer term studies in the future are needed," Xu said.