Lorentz PS2-100: The small solar water pump offering flexibility and high performance
Diana Aoun | August 24, 2021
Lorentz has introduced the latest addition to its range of solar powered pumps. The PS2-100 is a small pumping system that sets a new benchmark in quality and reliability, running directly from solar energy while effortlessly pumping water throughout the day to meet service expectations. The Lorentz PS2-100 is a high-efficiency, cost-effective solar pump system designed for self-installation thanks to its plug and play features.
The high efficiency of the PS2-100 ensures that adequate quantities of water are pumped during the day that can also be stored in a tank for night-time use where required. Unlike fuel pumps, daily filling up is not needed. In addition, there are no expensive batteries required and no maintenance. Its compact size and plugged connections make the PS-100 easy to move from one location to another.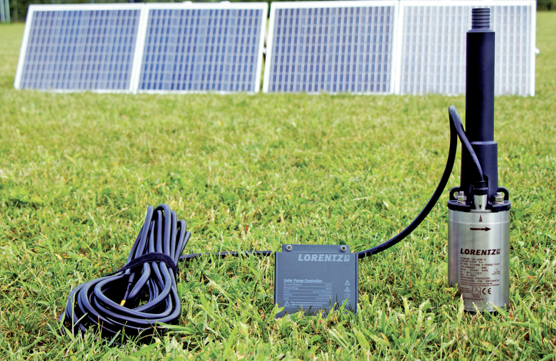 Source: Lorentz
The PS2-100 is a submersible pump, meaning users are not limited to the water sources that they can pump from. It is equally effective when pumping from a well, pond, tank or lake and can pump vertically up to 40 m (130 ft) head and over 2.8 m3/hour (12.3 gallons/minute).
System features include a submersible helical rotor pump and high efficiency DC brushless motor, plugged connections for user self-installation, replaceable cables for extended life, and multiple pump ends to match local pumping requirements.
The PS-100 can typically be powered by a single 60 or 72 cell module in the power range of 180 W to 260 W although larger modules are available. The maximum input voltage Voc (voltage at open circuit) is 50 V DC.
The Lorentz PS2-100 is suitable for a wide range of applications including drinking water for homes, water for livestock, and irrigation. The pump was named the most efficient solar water pump in the 2019 Global LEAP Awards being 25% more efficient than its closest competitor on the market. The pump is flexible and can deliver a wide range of flow and head requirements with three different pump models available in the range.